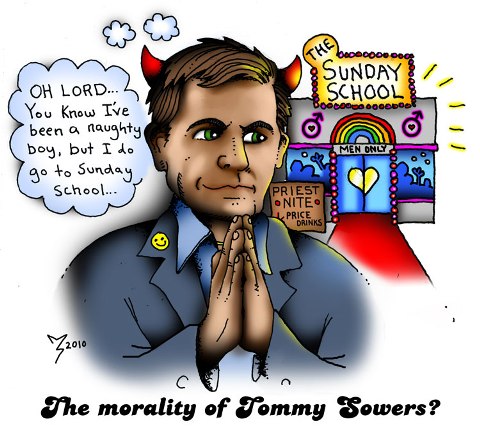 Respected Democrat pollster Stuart Rothenberg has thrown a wet blanket on the fledgling Sowers campaign. Writing yesterday in Roll Call, Rothernberg states that "there is little suspense about the election's outcome in November." 
Rothenberg goes in the article to effusively praise Sowers, including his prowess for raising large sums of money from out of state, liberal elites. He also seems to suggest, that because only 12% of the district's resident have college degrees, they are too stupid to realize what a great candidate they have in Tommy Sowers! Amazing! Roll Call:
The Roll Call article about Sowers mentioned a fundraiser in Washington, D.C., hosted by some big names, including former Democratic National Committee Chairman Howard Dean, retired Gen. Wesley Clark and Democratic-strategist-turned-talking-head Paul Begala.
But Sowers' March Federal Election Commission report also showed contributions from "Saturday Night Live" producer Lorne Michaels, Manhattan philanthropist Donald Rubin (who spent $22 million on a Park Avenue penthouse five years ago), Credit Suisse executive Todd Sears, who has been active in gay rights groups, former New Line Cinema Chairman Robert Shaye, former Young & Rubicam CEO Ed Vick, Aspen writer and poet Bruce Berger, members of New York's affluent Tisch family and dozens of lawyers, investment executives and Duke University alumni.
Remember, Sowers is running in southeastern Missouri where the largest communities are Cape Girardeau (about 37,000 residents), Rolla (about 18,000) and Poplar Bluff (17,000). According to 2000 Census figures, only 12 percent of district residents have a college degree, one of the lowest percentages in the nation.
While the liberal Missouri website Show Me Progress recently described Sowers as a "credible challenger" to Emerson, there is little suspense about the election's outcome in November. Read more…
SE Missourian: Emerson tops Sowers in second quarter fundraising 
Now We Know Why Sowers Doesn't Want to End "Don't Ask, Don't Tell
FEC Complaint Filed Against Tommy Sower's DC Gay Bar Fundraiser
Tacky! Tommy Sowers Exploits His "Combat Bible" in First Commercial
Sowers Does Christian Network TV Interview After Gay Bar Fundraiser
Comments
comments