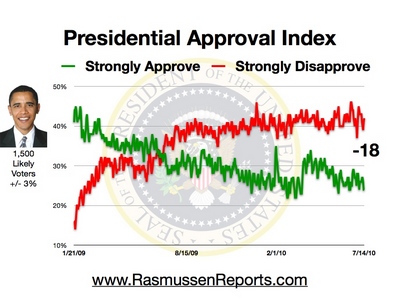 Vice President Joe Biden and the Obama administration rolled out their "Recovery Summer" tour to much fanfare last month, but The Washington Post writes today, "In a series of polls, the public has expressed deep skepticism about the economic direction Obama began taking in early 2009. A clear majority now say they disapprove of his handling of the issue."
A Washington Post/ABC News poll yesterday found 54% disapprove of President Obama's handling of the economy. ABC News wrote, "If the question has been when  Obama owns the economy, it looks to be now – not at a happy time, given 9.5 percent unemployment. He'd made slight progress on this key issue, inching ahead from 45 percent approval on the economy in March to 50 percent in June. That's now gone, down 7 points in this poll to 43 percent, with 54 percent disapproving, a new high. And 'strong' disapprovers outnumber strong approvers by a record 41 percent vs. 20 percent."
And a CBS News poll announced last night, "The President's approval rating on the economy has dropped to 40%, down five points from last month. Disapproval of his handling of the economy is now at a majority of 54% – the highest to date." Discussing the poll, CBS noted, "[I]n the poll, the economy is seen as the biggest problem by far facing the country, specifically the lack of jobs. . . . Fifty-two percent say the president has spent too little time addressing the issue, and 63 percent say his economic programs have had no effect on them personally." And only 23% in the poll say the $862 billion stimulus has made the economy better.
As The Washington Post points out, "That has put the White House on the defensive as the midterm elections approach this fall. . . . That sense of frustration among voters has developed despite what White House officials see as a series of successes in the last year and a half: health care reform, Wall Street reform (perhaps to be passed Thursday), and an economic turnaround that has turned staggering monthly job losses into modest monthly job gains." But, The Post explains, "West Wing officials like [Press Secretary Robert] Gibbs are trapped now. The more they talk about their economic and legislative successes, the more danger there is that they seem out of touch with the public's sense of frustration."
With administration officials like Transportation Secretary Ray LaHood declaring, "Welcome, everyone, to the summer of recovery!" while unemployment remains at 9.5% nationally and exceeds 10% in 15 states, it's no wonder Americans are so dissatisfied with the Obama administration's poor record on job growth and increasingly out-of-touch pronouncements.
Related:
Quote of the Day: Carnahan: "Recovery Act Aimed High, Hit the Target"
Comments
comments