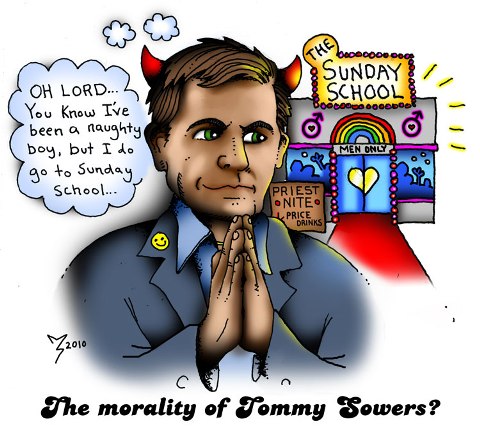 Former Rolla mayor Floyd Ferrell has filed a FEC complaint alleging that Tommy Sowers violated election laws during his fundraiser last month at a well known gay bar in Washington D.C. According to Ferrell, Sower's fundraiser was also a backdoor (no pun intended)  product launch with Square Inc, a firm founded by St. Louis Twitter founder Jack Dorsey.
"This complaint makes a persuasive case that Tommy Sowers violated the law when he held a dual fundraiser and corporate product launch in Washington, DC. Either Sowers does not know the law, or he willfully flaunted it. Regardless, this demonstrates once again that he is simply not ready for prime time." —Lloyd Smith, Executive Director, MRP
Definitely not ready for prime time! Who is this guy's campaign manager?
Related:
Now We Know Why Sowers Doesn't Want to End "Don't Ask, Don't Tell"
FiredUp Missouri & Liberal Tommy Sowers Call Obviously Gay Bar, "A Regular Hangout"
Comments
comments