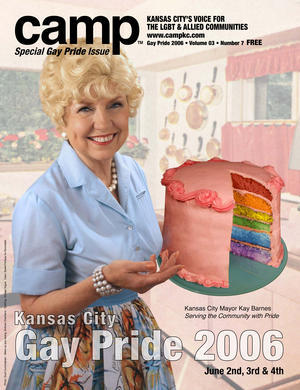 One letter to the K.C Star – from a so called "rural Missourian" – designates a groundswell of rural support for Kay Barnes in the Star editor's minds. This letter from a Brett Carmical in yesterday's edition had this cheerleading header above it: "Rural residents for Kay Barnes:"
"I would like to congratulate Kay Barnes on her endorsement from the National Farmers Union political action committee. Her fight for rural workers is truly impressive. Barnes chooses to focus on issues that we in rural Missouri care deeply about, rather than to follow her opponent Sam Graves." Read more…
For disclosure purposes, the National Farmers Union's Missouri Executive Director is Joe Maxwell – the former Democrat Lt. Governor. No surprise here in the endoresement. They are also advocates for open borders as this 2008 Special Order of Business plainly states:
WHEREAS, the domestic agricultural labor pool is limited; and

WHEREAS, National Farmers Union belongs to a broad coalition of organizations representing farm worker advocates, agricultural employers, religious leaders and others in support of bipartisan legislation pending in Congress. The Agricultural Job Opportunities, Benefits and Security Act (AgJOBS) represents a balanced solution for American agriculture and would achieve historic reforms to our labor and immigration laws relative to production agriculture; and

WHEREAS today's immigration and guest worker laws have failed to maintain pace with today's agricultural production needs. Both farmers and prospective seasonal employees are placed in an untenable situation of risking violation of current law.
CQ Politics' Top 10 Challengers Raising Money Down to the Wire
9. Kay Barnes, Democrat, Missouri's 6th ($2.4 million). Barnes, a former mayor of Kansas City, is taking on four-term Republican Rep. Sam Graves in a district that includes part of Barnes' hometown and also rural territory in the northwestern quadrant of the state. Our rating: Leans Republican.
Quote of the Day: "Does Anyone Have Any Insight as to Why Barnes Can't Get Above the Low-40 Ceiling?"
WAPO: "Democrat Kay Barnes Having Trouble Escaping Fannie's Grasp"
Roll Call Newspaper's Kay Barnes "Masturbation" Article
Comments
comments