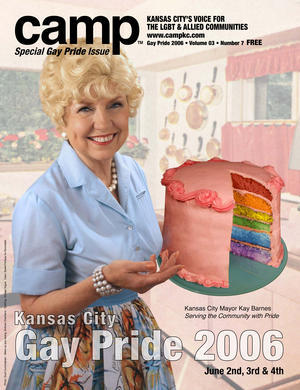 "There is no way another person can make a woman satisfied." – Former "masturbation consultant" and K.C. mayor Kay Barnes
From the Washington Post:
The mudslinging of the presidential campaign has oozed its way down the ballot to several important House and Senate races, and Washington's most infamous couple — Fannie Mae and Freddie Mac — have become the object of scorn everywhere.

One House candidate in particular, Democrat Kay Barnes, is having trouble escaping Fannie's grasp, thanks to Republicans who are bent on stopping her from unseating one of their own. Barnes, who is running a spirited race to unseat four-term Rep. Sam Graves (R-Mo.), was appointed by beleaguered former Fannie Mae chief executive Franklin Raines to serve on Fannie's National Advisory Board from March 2002 to October 2003. Read more…
Related:
Investers Business Daily: Freddie, Fannie Were Big Campaign Donors
Fannie Mae (FNM) and Freddie Mac (FRE) may not have managed their mortgage investments wisely, but the loan-funding giants used a savvy strategy of campaign contributions, based on an Investor's Business Daily analysis
Senators on a key appropriations panel received $167,000, with Sen. Kit Bond, R-Mo., reaping $64,000.
"We raise all the money we are permitted . . . so that we can get our message out and so our candidates can compete with all the funds raised by the opposition," read a statement by Bond's office. Read more…
Comments
comments