Here's the complete Roll Call article we excerpted this morning.
Graves Prepares to Unload on Barnes
By Matthew Murray
Roll Call Staff
September 16, 2008
"There is no way another person can make a woman satisfied." – Kay Barnes
Less than two months before voters weigh in on the toughest challenge of his political career, Rep. Sam Graves (R-Mo.) is escalating his cultural war with former Kansas City Mayor Kay Barnes (D), accusing her of pushing "a homosexual agenda" and shopping a mid-1970s magazine article in which Barnes, a former sexuality consultant, encouraged masturbation.
The Graves campaign on Monday circulated a news release linking Barnes with Camp, a magazine marketed to Kansas City's gay community, which published a satirical column last week describing Graves' "horse-face wife and wild-eyed children."
Barnes famously posed for the June 2006 cover of the magazine, which Graves' campaign now says "is paying her back by launching a vicious attack on Sam Graves' family."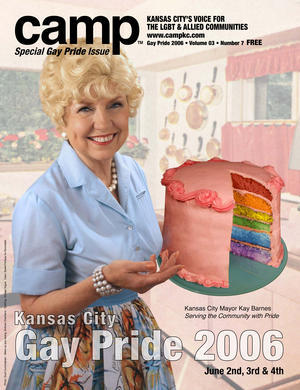 "This is a new low, even for Kay Barnes," Graves' spokesman Ryan Steusloff said in a statement.
"Those aren't Missouri values. Kay Barnes and her liberal friends have to attack Sam Graves and his family because they know the voters of Missouri do not support their homosexual agenda."
Graves, known as a conservative cultural warrior in the Show Me State, is lunging for the political jugular in his quest for a fifth term, going negative early on Barnes in widely publicized television ads criticizing her attendance last summer at fundraiser hosted by Speaker Nancy Pelosi (D-Calif.).
"Kay Barnes is raising hundreds of thousands of dollars from West Coast liberals by promoting their values, not ours," a narrator in Graves' first ad said. "Big city Mayor Kay Barnes and Nancy Pelosi – celebrating their San Francisco values." Barnes, who was born in St. Joseph, Mo., and has roots in the rural part of the district, is counting on racking up higher-than-usual totals against Graves than most Democrats in the district's rural areas to supplement her base in Kansas City.
The Democratic Congressional Campaign Committee is targeting Graves, recruiting Barnes early in the cycle and enrolling her in its "Red to Blue" program, which appears to have paid off. As of July 16, Graves and Barnes were deadlocked in fundraising totals, with each going into the primary with roughly $950,000 in cash.
Graves' campaign is now airing a television ad in rural areas of the district using familiar go-to wedge issues such as abortion and immigration.
"We value life. Kay Barnes supports taxpayer financing of abortion and partial-birth abortion," the ad's narrator states. "We value traditional marriage. Kay Barnes supports same-sex marriage." "On immigration, we believe in the rule of law," the ad continues. "Barnes supports amnesty for illegal immigrants who seek taxpayer-financed welfare."
Meanwhile – and perhaps most explosively – the Graves campaign late last week provided Roll Call with an excerpt from a 1976 issue of Kansas City Woman magazine. The article, a case study itself in 1970s-era Midwestern sexual mores, features Barnes – who was then known as Kay Waldo – exploring the role of masturbation in "pre-orgasmic" women.
"There is no way another person can make a woman satisfied," Barnes is quoted as saying in the piece, "The Sexual Revolution – Freedom or Fantasy." "She must become aware of what gives her pleasure and communicate that information to her partner. A key technique in achieving that awareness is the practice of masturbation."
Barnes at the time was not a licensed therapist, but she was affiliated with the Center for Sexual Enrichment at the University of Kansas Medical Center.
Another similarly dated article from the Kansas City Star also profiles the sexuality workshops Barnes hosted at her home in mid-1970s, while she was a elected county official in suburban Kansas City. Graves advisers are unsure of how to use the old articles in the campaign.
In an interview with Roll Call on Monday, Barnes spokesman Steve Glorioso said Graves is "fixated on sex" and that 6th district voters have more on their minds than a magazine article that may have been published before they were born.
Glorioso also downplayed the articles, saying Barnes primarily made a name for herself in 1970s in the field of time management, not hosting sex workshops. Barnes wrote a book on time management three decades ago, Glorioso said, and the former mayor is fond of saying that "she didn't have much success with [the sexuality workshops]; so she said they either weren't very good or very interesting."
"Her main private sector career was time management," Glorioso said. "It seems to me that Sam is fascinated with these issues to the exclusion of everything else, including the effect of the economic implosion we're having right now."
He added: "Instead of talking about the stock market almost crashing today and unemployment now over 6 percent, Graves wants to focus on a 30-year-old
article."
Comments
comments