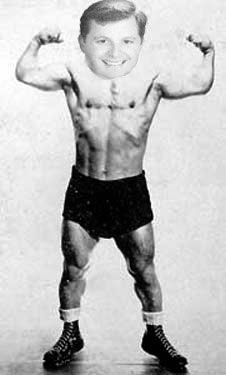 "I don't remember any conversation like that from four years ago."– "Political Pygmy" Jason Van Eaton

We urged Wednesday for the Missouri press to investigate former low level staffer Jason Van Eaton's role in the firing of former U.S. Attorney Todd Graves and his feud with political consultant Jeff Roe. The Washington Post today has a shocking expose on just how far Van Eaton's abuse of Senator Bond's office really went. Typical of people whose hand has been caught in the cookie jar, Van Eaton has come down with a convenient case of forgetful-itis.
On another note, isn't it surprising that Fired Up Missouri has been eerily silent on Van Eaton's role in this sordid mess? We have our suspicions that "Rowdy Rod" Jetton was a source for FUM, and now the long held speculation in Jeff City that Van Eaton is a source for them seems to be panning out as well.
From the Washington Post:
It came to a head when the Bond aide demanded in October 2004 that Todd Graves persuade his brother to fire Jeff Roe, then his chief of staff. Although the report does not identify the caller, multiple sources told The Washington Post it was Roe's archrival, Jason Van Eaton, the chief of staff for Bond's Missouri office.

Van Eaton and Roe, a longtime Republican political operative, are roughly the same age, and each sought an influential reputation, the sources said. Their bosses worked well together, but for the two aides "it was all about personality clashes, who is the more important and powerful staffer," said a Republican who knows the two.

They became foes in 2004 partly because Roe was then assisting a Republican congressional candidate who was challenging a longtime Bond ally, former Kansas City mayor Emanuel Cleaver II, according to a source familiar with the episode. They also disagreed over which official — Bond or Rep. Graves — deserved principal credit for obtaining a highway construction grant for northern Missouri, and over sharing a database of voter opinions compiled by Graves's office, two other Republican sources said.

The tension escalated after Todd Graves refused to get involved, telling Van Eaton during the telephone call, "I'm not playing in your reindeer games." Van Eaton, who is now a political consultant, said last night, "I don't remember any conversation like that from four years ago." Read more…
Related:
CDT Politics Blog: WP: Van Eaton tangled in Graves ouster
WSJ Law Blog: Power Play Led to Prosecutor's Ouster; How Not to Fire a U.S. Attorney
Comments
comments