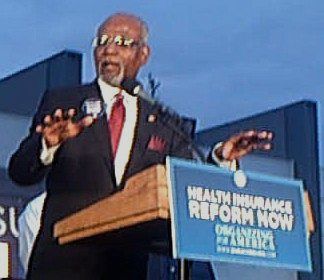 St. Louis County Executive Charlie Dooley
There have been numerous stories lately (here, here, and here) regarding companies and insurers dropping their coverage due to the Obamacare mandates. Remember, we were promised that people would still be able to keep their healthcare with the passage of this monstrosity.
This brings us to another question: With companies in this lean economy threatening to scale back their healthcare coverage – or eliminate it altogether – how soon will it be when we'll see cash starved states, municipalities, and counties following suit of the private sector? With St. Louis County on the hook for a potential $60-100 million dollar judgement against them due to the ill advised Dooley/Temporiti trash scheme, will county employees healthcare coverage suffer in the future as a result?
Related:
Rasmussen Reports: Most Voters Fear Health Care Law Will Cause Some Companies To Drop Employee Coverage
Charlie Dooley Calls Obamacare Protestors "Nothing But Haters"
[kml_flashembed movie="http://www.youtube.com/v/W4pmSI7OxFw" width="425″ height="350″ wmode="transparent" /]
Comments
comments