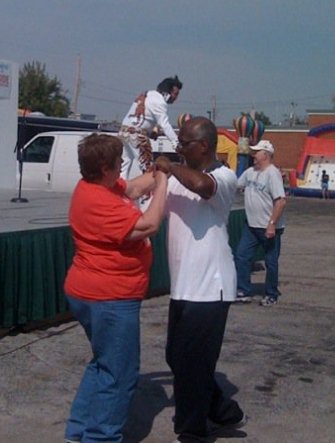 Is Dooley now dancing around his merger proposal?
Even more evidence of amateur hour over at the Dooley Campaign. In a Post Dispatch editorial board meeting with writers and editors on Monday, Mr. Dooley floated the idea that he would be amenable to the idea of a St. Louis County/St. Louis City merger:
"We need to (merge)," Dooley said. "The chances now are better than before but the city officials of St. Louis are not all on the same page on this issue because they have constituencies that they answer to."
Ummm, news flash Charlie, you have constituencies that you have to answer to also, and if comments from the PD article are indicative of county resident's sentiments, than proposing this idea was a MAJOR blunder:
"I moved out of the city to ESCAPE the crime, the politics, the SCHOOLS! Now union thug goofball wants to drop it all in the lap of the county residents. And in a elction year! Is Dooley smokin' crack?"
"Champagne corks are popping at Corrigan headquarters. So long, Charlie!"
"I'm not feeling the lover here for ol' Charlie. This… the merger of the city and county is going nowhere fast and Charlie knows it. NOBODY wants it… not in the city and not in the county. Charlie is a man of bad ideas… and this is one of the worse."
 "A merger would guarantee a Democratic lock on "County" Government. With this and the hundred plus million in damages the County will be on the hook for with the trash haulers…. Charlie and Co. should start packing their boxes. Corrigan doesn't have to do a thing for the next month expect run two TV ads outlining these two things."
This is what a Dooley spokesperson is saying today in the St. Louis Beacon:
Spokeswoman Jamboretz said the campaign also is clarifying a report in the Post-Dispatch that Dooley is seeking a city-county merger. "It was a misunderstanding," said Jamboretz. Dooley's view remains what it has always been, she said, that "it's a subject ripe for discussion with citizens" in the county."He's open to talking about a city-county merger — and it's possible pros and cons," Jamboretz. "I would not call him an advocate." But his spokeswoman emphasized that the county executive thinks it's premature to press for a full-blown merger.
"We need to (merge), the chances now are better than before" doesn't mean you're an advocate for a county/city merger???? It seems pretty clear to us what's going on here. After being pressed by the PD on his position on a possible merger (St. Louis Libs holy grail by the way) Dooley got away from the talking points his handlers prepared for him and said something he thought they wanted to hear. Surprisingly this campaign season, the Post Dispatch has actually been asking him some hard questions and Dooley apparently thought his answer could buy him some favorable coverage from them. Doesn't St. Louis County deserve better "leadership" than this?
Related:
The Source: Dooley Comes up with Idea, Results Predictable
The Beacon: Corrigan joins opponents who decry County Council approval of trash-contract change
24th State: Charlie Dooley Wants More Power, Democratic Voters
Comments
comments