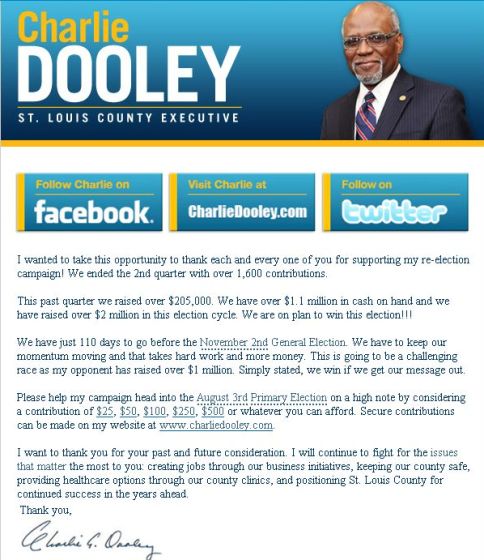 "This is going to be a challenging race as my opponent has raised over $1 million."

Now that all the reports are in, it seems that upstart Republican challenger Bill Corrigan significantly out-raised incumbent Charlie Dooley in this past fund-raising quarter. What is also surprising is that the two campaign are almost even when it comes to cash on hand. In our humble opinion, with all the flip flops, scuttlebutt of scandals and investigations involving St. Louis County government, and the sour mood of the electorate for entrenched incumbents, Mr. Dooley and his campaign have plenty to worry about this fall. But not according to left wing University of Missouri -St. Louis political science professor David Robertson:
"No worries"

But Robertson doesn't feel Democrat incumbent Charlie Dooley should be too worried.
"I don't think Charlie Dooley is more vulnerable today they he was yesterday, before this announcement was made."

Robertson believes Republican supporters are more energized this year. He says voters in the fall will be thinking about the economy, jobs, and taxes. Read more…
Didn't this hack just totally contradict himself? Republicans are energized; the economy is lousy; there are no jobs; and taxes – especially real estate taxes – are too high, and the Democrat Mr. Dooley doesn't have anything to worry about?
Related:
Dooley Flip Flops On Electing County Assessor; Top Advisor Admits "No Vision" for StL County
Comments
comments