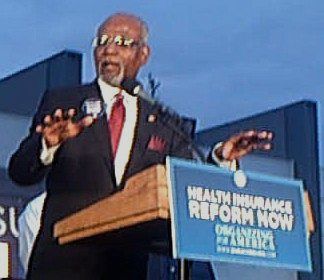 "OMG – Dooley's spokeswoman did not say he has been thinking about this for the past three years, did she. Wow – they both need to go." –Political Fix comment

Are these people out of touch or waht? Former television newsreader and Dooley spokesperson Katy Jamboretz has to be the worst spokesperson we've ever heard! When a local television station revealed that nearly two dozen Dooley appointees made EXACTLY one percent donations to Mr. Dooley's reelection effort,  the best this female Robert Gibbs impersonator had to offer was this very lame rebuttal:
"I think he [Corrigan} looked at the donation and he jumped to a conclusion that was incorrect. I think the message to him is find a real message to run on."
Look, it doesn't take an attorney or crack detective to deduce that nearly two dozen employees giving exactly one percent of their salary to their boss' relection efforts, may not be a coincidence. Need more evidence of amateur hour over at the Dooley campaign? Here's Ms. Jamboretz's brilliant response to Republican candidate Bill Corrigan calling for an end to free cars and free gas for certain county emploayees:
"I think Bill Corrigan is trying to highjack a county government issue and turn it into a political issue. It's not that Charlie only took notice of this issue in light of the Post-Dispatch story. He's been thinking about it ever since the county's budget got tough three years ago."
Excuse us? Isn't Mr. Corrigan running for county executive? When did it become political for a candidate for office to talk about issues pertaining to that office?
Related:
STL Beacon: Corrigan calls for end of most county-owned cars for county officials
KWMU: Republican challenger for St. Louis County Executive calls for ending 'take home' cars
St. Louis Globe Democrat: Corrigan wants to eliminate 'perk' cars in St. Louis County
KMOX: County executive candidate calls for an end to free gov't vehicles
Comments
comments