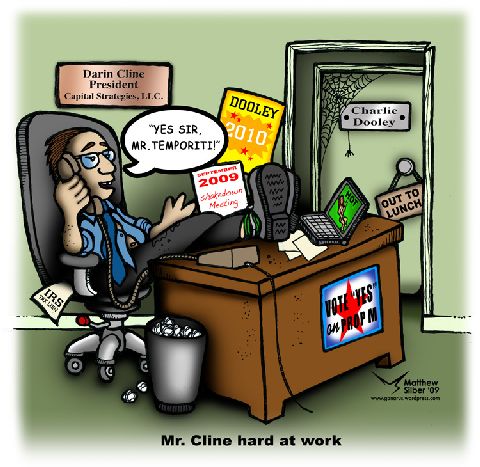 It's not often that you see the managing editor of a major talk radio radio station doing some actual reporting. We have that development today. KMOX managing editor Kelly Hatmaker has a follow up on the story they ran yesterday questioning the finances of a non profit controlled by lawyer, lobbyist, Dooley campaign treasurer/manager John Temporiti. Hatmaker's piece is titled, 'What happened to your Wi Fi?'
KMOX.com:
More than three years after St. Louis County Executive Charlie Dooley proposed uniting the region under a 'technology quilt' of free wireless broadband internet access, what ever happened to the county-wide WiFi initiative?
A KMOX investigation shows the answer to that question involves a now-admitted con-man, the leaders of more than a dozen local communities and key players in St. Louis County government, starting with Dooley himself
However, Leezer also had the support of Dooley's then-director of intergovernment affairs, John Temporiti. Speaking along side Dooley at the UM-SL gathering, Temporiti said the region couldn't afford to fall behind on current technologies. "Change is something either you embrace or it will pass you by." According to Temporiti, Leezer and his Economic Development Collaborative were "involved with this initiative and coordinating our communities on a full-time basis." But Temporiti also pledged financial support for the project, in his roll as then-president of the St. Louis Regional Exchange.
As KMOX told you yesterday, the Exchange's finances are in disarray and to date, Temporiti has refused to speak with us about his activities there. Read more…
Dooley Top Aide Says Temporiti Left Non Profit's Finances in "Disarray"
Comments
comments