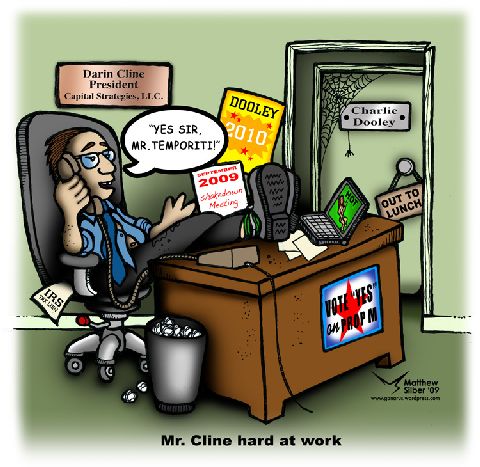 If we didn't know any better, it looks like the stage is being set by the Dooley Administration to throw consigliere John Temporiti under the bus. With all the accusations being thrown around regarding pay to play involving Mr. Temporiti and St. Louis County government, this latest hiccup that KMOX radio has unearthed may be the straw the broke the proverbial camel's back. 
If your read between the lines of the KMOX report, it sounds like a non profit that was eestablished by St. Louis local leaders to "oversee the economic development and security of the metro St. Louis internet infrastructure," may have become a slush fund for its former board president John Temporiti. Temporiti is St. Louis County Executive Charlie Dooley's campaign manager and treasurer. The current board president Tom Curran said the organization never applied for federal recognition as a non profit organization.Curran also said the firms financial records were in "disarray."
John Temporiti: "Chillin' like a villain"
KMOX.com:
The non-profit corporation established by local leaders to oversee the economic development and security of the metro St. Louis internet infrastructure is in financial disarray, operating outside IRS rules for tax-exempt organizations and it also appears to be flat broke.
That's the understanding of Tom Curran, St. Louis County Executive Charlie Dooley's Director of Intergovernmental Affairs, who was just voted in as Board President of the St. Louis Regional Exchange Point — or REP — Collaborative on March 31st. "It's of concern to me, as the president of the organization currently," Curran told KMOX. "I think we need to get on with whatever applications, if there is anything missing.
Temporiti himself signed the papers incorporating the Collaborative as a non-profit with the state of Missouri in July of 2005, and it remains in good standing with the Secretary of State's office. But when KMOX asked Curran whether the Collaborative was also operating as a tax-exempt organization under IRS rules, Curran was not able to obtain any of the requisite paper work from his predecessor. "As of April 2nd, when we discovered the 501(c) status had not been applied for, I have made an inquiry with the attorneys for the REP, in regards to the revenues and expenditures in recent years," Curran said. "We have initiated a review process to see if becoming a 501(c) organization would further the REP's purpose for expanding broadband and wireless internet service."
And some money definitely has changed hands during the years of the Collaborative's operations. Curran says he knows of at least a few donations from companies."There were certain companies that had contributed monies, private companies such as Talisen Technologies and IBM were two that were mentioned to me," he said. Talisen and IBM are both members of the Regional Exchange.
But according to Curran, "those monies were utilized and have since run out," with documents he\'s obtained seeming to indicate the Collaborative's bank account was closed last fall. As to where some money went, Curran says he has found receipts showing payments to an independent contractor who had been doing fundraising work. That contractor was Vincent Currao, the president of Targeted Strategies Group, who has done work for local Democratic political campaigns in the past. When asked by KMOX about his activities, Currao said in a written statement that he did fundraising for the Collaborative from December of 2008 through April of 2009. But Currao said he could not provide the specific dollar amounts he raised, due to a non-disclosure agreement. Currao also indicated he no longer works with the REP Collaborative, and that he ended that relationship earlier this month. Read more…
Related:
KMOX: Feds Cast "Wide Net" in Probe of StL County Contracts
One Question Post Dispatch "Forgot" to Ask Dooley: "Were You Aware That Your Lobbyist Was Operating His Consulting Firm From Your Office?
Comments
comments