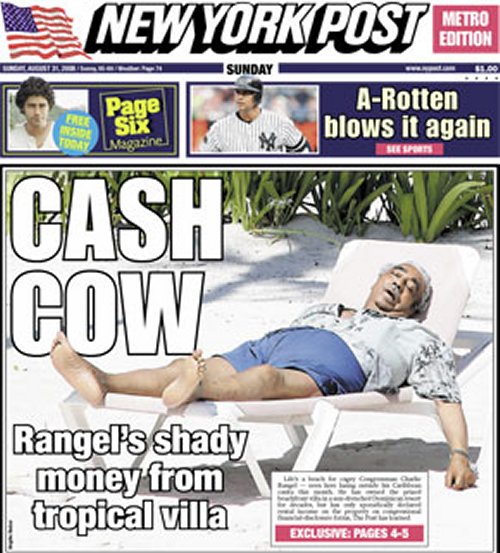 Former House Ways & Means Committee Chairman Charlie Rangel relaxing on the beach during his illegally sponsored corporate trip to the Caribbean.
Instead of having some guts like President Obama and fellow Black Caucus member Artur Davis of Alabama, Congressman Clay plays the much over used race card when commenting on the ethics troubles of the former chairman:
"The rulings that came out last week gave me great pause. You had some members treated one way, and another member like Mr. Rangel treated another way." Read more…
WTF!!! Mr. Rangel is also being investigated by the ethics commitee for having four rent subsidized apartments in Harlem, using House stationary to solicit funds for a foundation in his name, not disclosing rental income from his villa, and for not disclosing a half a million dollars in assets. We can't wait for the Congressman's response once these investigations are completed.
Related:
Cong. Clay & Special Interest Groups Pressure Census Director; States Now Allowed to Use Prison Populations for Redistricting
Clay Top Aide Runs Private Business Next to Congressional Office
Clay: "Not Enough Earmark Money Going to My Sister, I Mean District!"
Cleaver/Clay Vote Against Lobbying Reform
Comments
comments