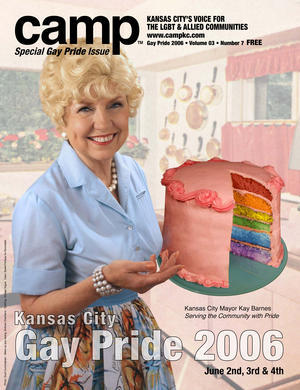 "Win or lose, I will tell you this has been a wonderful experience for me"
Following on the heels of another Democrat who has thrown in the towel on their fledgling campaign, former masturbation counselor and Kansas City mayor Kay Barnes does likewise in the St. Joseph News Press today.
Barnes is quoted in the piece as saying: "win or lose" she enjoyed the "adventure" and "pounding on Sam" at their debates. The "wake up and smell the coffee moment" apparently came when it was announced that the DCCC was no longer putting money in her race.
The St. Joseph-born Ms. Barnes wrapped up a five-day "Barnes-storming" tour in the driveway of her mother's local home. In this same St. Joseph driveway, on May 14, 2007, the former Kansas City mayor announced her intention to take on four-term Republican incumbent Sam Graves. Ms. Barnes stood beside her mother, Helen Cronkite St. John, accepted the applause of about three dozen supporters and called the campaign "an adventure." Read more…
Related:
Graves commercial makes Huffington Post's "60 Most Memorable"
The Source: The Barnes Files – Part IV
Comments
comments