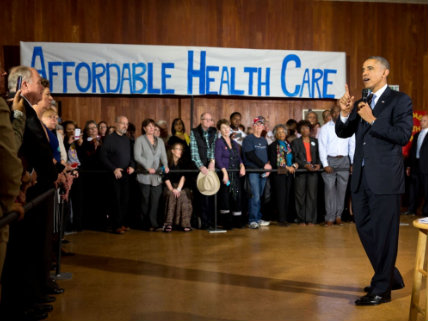 The White House and Democrats are admitting today that their socialized medicine scheme formally called Obamacare is a bust. Premiums in the health exchanges are expected to rise an average of 25% next year, and in may cases, there will only be one insurer in the marker for 20% of Obamacare recipients.
Chicago Sun Times:
"In St. Louis, Emily Bremer, an insurance broker, said only two insurers will be offering plans next year through healthcare.gov. Cigna's network includes BJC HealthCare and an affiliated physicians' group, while Anthem provides access to other major hospital systems, including Mercy, but excludes BJC and its preeminent academic medical center Barnes-Jewish Hospital. "These networks have little or no overlap," she said. "It means severing a lot of old relationships. I have clients who have doctors across multiple networks who are freaking out."
Even before St. Louis' insurance options shrunk, Bremer said she had to put members of some families on separate policies in order for everyone to keep their physicians. That can cost the families more, because their combined deductibles and maximum out-of-pocket payments can be higher than for a single policy, she said. "Every year our plan disappears," said Kurt Whaley, a 49-year-old draftsman in O'Fallon, Mo., near St. Louis. After one change, he said, "I got to keep my primary care physician, but my kids lost their doctors. I had to change doctors for my wife. It took away some of the hospitals we could get into." Read more…
Related:
Koster Touts Obamacare While Another State Exchange Closes
McCaskill on Obamacare: "I Think It's Probably More Than A Glitch"
Nixon Takes Position on Insurance Health Exchanges – After the Election!
Russ Carnahan Calls Obamacare Protestors "Attack[ers] On Our Representative System of Govt."
Comments
comments