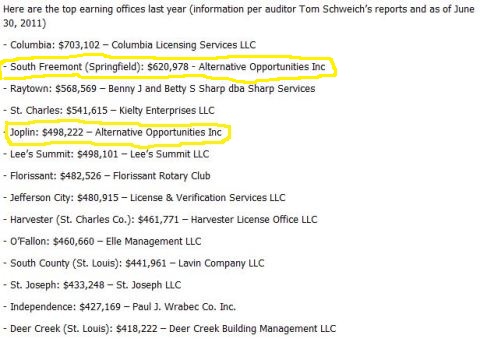 Credit: Post Dispatch
The state  auditors office released results last week that regular MOPNS readers already knew: "Pay to Play Jay" top contributor Alternative Opportunities have two fee offices in the top five in revenue. The whole sordid history is below:
MOPNS: (9/21/09)
Alternative Opportunities, INC, a group that has been awarded numerous fee offices by Governor Jay Nixon's Department of Revenue, (some of the most lucrative) recently acknowledged that they would be awarded a total of seventeen (17) fee offices around the state. The statement was made at a training session for the group's new fee office employees. The group went on to state that they would soon be awarded the contract to run the Deer Creek Fee Office in St. Louis. This office is one of the five most profitable in Missouri. Read more…
1/08/10
While those who lie on official government documents are typically penalized or prosecuted, there is a new trend in Missouri – we reward them. Alternative Opportunities, Inc. (also known as AO), a not-for-profit corporation located in Springfield, failed to disclose a management contract that it had with a for-profit company when submitting bids to run several of Missouri's license offices. Read more…
1/14/10
Steve Fenner, defense attorney and candidate for Greene County prosecutor, has a few questions regarding the budding Alternative Opportunties scandal"
Questions for the Department of Revenue
1. Why rebid? Isn't the normal state procedure to award the contract to the second qualified applicant when the leading applicant is disqualified?
2. Should the DOR rebid offices every time a bidder is disqualified? If so, why wasn't the Joplin office rebid sooner?
3. How was the point system used to determine the winning bid established? Does it give an advantage to contributors to the governor's campaign? Does the DOR receive any input from the governor's office when making its decision? Read more…
2/5/10
When he took office, Governor Jay Nixon made a production out of his bid to reform the way fee offices are awarded in Missouri, promising to use competitive bidding to remove any partisanship from the process.  Months after his new system was implemented, one can see that Nixon has only been blowing hot air.
The biggest, most-profitable fee offices in the state have all gone to Nixon's cronies while they have let a few of the smallest offices be awarded to token Republicans in an attempt to maintain the "nonpartisanship" narrative that Nixon has pushed in the press. Read more…
Related:
Randles Calls Out Media on "Pay to Play Jay's" Kid Glove Treatment
MOPNS Posts Force Nixon to Rebid Fee Offices
Did Nixon Hold Off on "Pay to Play" Because of Our Reporting?
Comments
comments