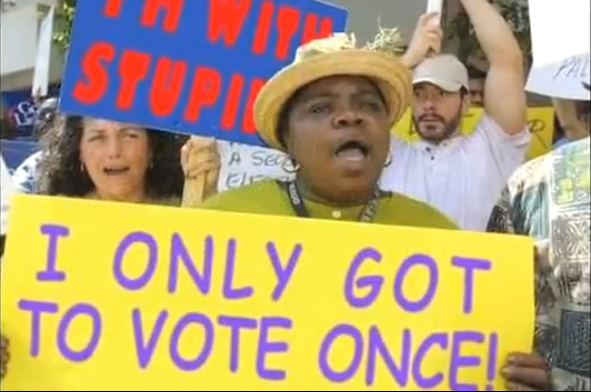 We received this guest commentary from a reader. This unique innovation will allow individuals to fight vote fraud in real-time, without the media being able to go after conservative organizations for alleged voter intimidation. 
The Voter Fraud app is available for iPhone, Android, and Blackberry (coming this week). An iPad version is in the works, but will likely be out next year.
The app is extremely intuitive. Once downloaded you can view various information through several tabs. There is a tab to see the reports filed in your city, a tab to see all of your reports, and a tab that pulls in voter fraud blog posts by Anita Moncrief, former ACORN whistleblower. The most important feature is the large "Report an Issue" button on the app's homescreen. Once the report button is pushed, the app will automatically open the phone's camera to take photo evidence of the incident. Once the user is satisfied with the photo they are prompted to fill out a form. The form has two main components: An issue selection field where they can pick an issue to report, anything from voter intimidation to campaigning to close to the polls (a full list can be found on the app site here). There is also a space to tell us additional information about the report.
Once the user sends the report off, we can graph the complaint on a map using the phone's built-in GPS capabilities. The reports will be mapped in real-time on the app website: The really cool part, we think, about this app is that we will be manning a "war room" on election day, sending complaints to the appropriate election officials in real time. Nothing like this has been tried before. We will also compile all complaints after the election and send them to the appropriate secretary of state. So not only are we hoping to keep elections honest and fair, we are holding election officials' feet to the fire.
Last, but not least, American Majority has compiled a Guide to Voter Fraud, put together by Anita Moncrief. After spending time in ACORN's D.C. office, she has intimiate knowledge of how they operate and what to look for. We hope the guide is passed around just as much as the app has been.
Comments
comments