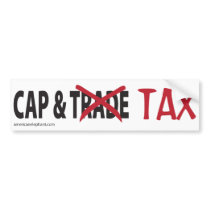 The Washington Post writes today, "On Thursday, some of the country's most respected environmental groups – in the midst of their biggest political fight in two decades – sent a group of activists to Milwaukee with a message. We're losing. . . . A year ago, these groups seemed to be at the peak of their influence, needing only the Senate's approval for a landmark climate-change bill. But they lost that fight, done in by the sluggish economy and opposition from business and fossil-fuel interests. Now the groups are wondering how they can keep this loss from becoming a rout as their opponents press their advantage and try to undo the Obama administration's climate efforts."
The Post continues, "Before, green groups had wanted so much more than this – they wanted a 'cap and trade' bill that would set emissions limits nationwide. The House passed a bill like that, but – after industry groups said it would kill jobs and slow the economy – the Senate decided last month to not even take the issue up. The bill's chances, already bad, will get worse if Republicans gain seats, as is widely predicted, in the midterm elections. 'If it's not addressed in a lame-duck session of Congress, it will have been punted to the next generation,' said David Wasserman of the Cook Political Report."
Earlier this year, after Democrats jammed through their unpopular health care law, they turned their efforts toward moving their climate bill featuring a carbon cap-and-trade system, which amounts to a national energy tax. In May, Sen. John Kerry (D-MA), who was leading the charge for Democrats on a cap-and-tax bill, said, "Now is the time to take action. The path to progress has been long, but despite Washington conventional wisdom, we are closer than we've ever been to a breakthrough. . . . We want to make this the Senate that finishes the job." In June, President Obama actually went so far as use his first address to the nation from the Oval Office to call for passage of Democrats' energy bill. The Washington Post reported, "President Obama urged the nation Tuesday to rally behind legislation that would begin changing the way the country consumes and generates energy . . . . He called for fast Senate action on an energy bill that has already passed the House." As late as July, Senate Majority Leader Harry Reid was promising to bring an energy bill to the floor before the August recess, even if it was a slimmed down version.
But all along, Republicans and many Democrats opposed the idea of a cap-and-trade plan. Indeed, just after Obama's June speech, Democrats reacted skeptically, with Sen. Jay Rockefeller (D-WV) telling Bloomberg News, "There's not a great call for it in the Democratic caucus," and other Democrats admitting there weren't 60 votes for a bill.
But with little enthusiasm among Democrats and recognition that such legislation would do nothing to address the oil spill in the Gulf, Democrats' climate bill slipped and slipped, until USA Today reported, "Senate Democratic leaders said Tuesday they don't have the 60 votes necessary to pass a scaled-back energy bill . . . . Majority Leader Harry Reid, D- Nev., said he was unable to find a handful of Republicans to vote for a bill. Reid's decision to delay until at least September is the latest setback for Democrats trying to pass energy legislation this summer in response to the Gulf of Mexico oil spill."
And now with the bill looking all but dead, the coalition of liberal groups pushing for an energy tax is left to lament that "[e]ven in the hottest year on record, even with a historic oil spill polluting the Gulf of Mexico, even with a Democratic Congress and a friendly White House, it couldn't win the fight it had picked. In fact, in the Senate it couldn't even start it."
A national energy tax resulting from a carbon cap-and-trade scheme was never a good idea to begin with, and as a response to the oil spill, it was essentially a non-sequitur. The last thing Americans need in the midst of a recession with stubbornly high unemployment was is a new energy tax. Environmental groups may be disappointed in the rapidly diminishing prospects for such a bill, but few ordinary Americans are.
Related:
Dems' Job-Killing Policies Now Affecting Energy Sector w/ Drilling Moratorium, Cap & Tax Push
 Cong. Carnahan Supports Miners' Right to Organize, While He Votes to Destroy Their Industry!
Cleaver Secures $200 Million for "Green-Friendly Bus Stops"
Comments
comments