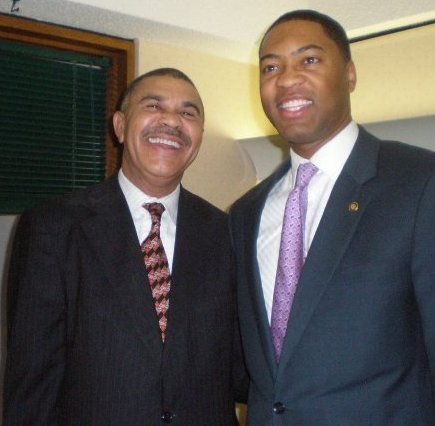 Cong. Lacy Clay sharing a light moment with state representative Don Calloway
It's Monday morning and amazingly – after reporting on this last Friday afternoon – Rep. Don. Calloway's (D-71) old campaign website still says in the header portion: "Offering free porn clips for all."
An interesting side note to this increasingly bizarre story is the fact that Calloway's website was designed by a firm called G2xDezignz. A principal of that firm, Erica Gage, is a former secretary of state employee of Robin Carnahan. Ms. Gage's work is so highly regarded by Carnahan, that she redesigned the Secretary of state's website after Robin took over.
Quote of the Day: "I Look Forward Advocating Women's Issues in the Capital"
Quote of the Day: "And Just Think, Don Wants to be a Senator. Ha Ha Ha!"
Quote of the Day: "We Didn't Want to Touch Don Calloway With a Ten Foot Pole!"
Is the Real Reason Rep. Don Calloway is Walking Home is Because His Driver's License is Revoked?
Comments
comments