As the Democrat controlled Congress presses on towards passing legislation the public doesn't want, a few of our local Democrats have weighed in on the raging debate. Amazingly, the most honest assessment comes from our governor. Mr. Nixon is quoted as saying he doesn't expect a single payer system to be in the final bill: "[Healthcare will not be] a reality in the world I live in."
Then we have Sen. McCaskill. With re-election looming in a couple of years, "Moderate" McCaskill knows she can't be seen as favoring a big government takeover of health care in fly over country like Missouri. Last week, McCaskill signed a letter with other Democratic Senators that calls for more "transparency in the debate" such as posting the final bill on the Internet. Great idea Senator, especially when the public believes it knows more about the bill than you do!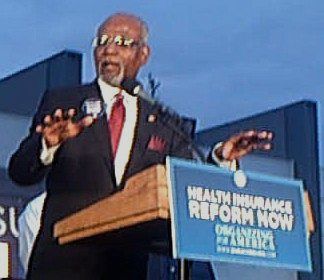 And then we have St. Louis County Executive Charlie Dooley. Calling Mr. Dooley enthusiastic for Obamacare would be a gross understatement. In the video below, Dooley suggests that the cool August evening, meant "something was in the air" to get Obamacare passed into law. He also seems to suggest that the crowd at the astroturf rally – put on by President Obama's political organization – was a truer measure of "America" and "diversity." And finally, Dooley gets so excited about introducing "his friend" Russ Carnahan, that he screws up the program and introduces Carnahan when someone else was supposed to.
Where is Robin Carnahan on health care???? Who the hell knows!
Related:
Rasmussen Reports: GOP Up By Five Points In Generic Ballot
[kml_flashembed movie="http://www.youtube.com/v/G6D3dZWbZMw" width="325″ height="250″ wmode="transparent" /]
Comments
comments