Chad Livengood of the Springfield News Leader (probably the best political reporter in Missouri) had a story yesterday detailing Governor Nixon's generosity to his staff in a time of a deep recession. Should we really be surprised? Especially after our governor said on C-SPAN that our children and grandchildren should pay our mounting national debt? 
SNL: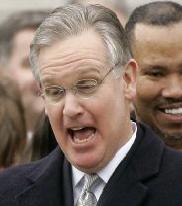 Gov. Jay Nixon's office says a "spending spree" by former Gov. Matt Blunt has made it necessary to pay some of Nixon's staff members from departments outside of the governor's office.
But critics say the arrangement raises accountability and transparency concerns — even though the practice has been used by several administrations over the years.
The annual salaries of 12 staffers in Nixon's office are being paid from the OA budget, totaling about $589,000 for the current fiscal year. The salaries of the governor's director, deputy director of legislative affairs and a senior adviser total $232,000.
Cardetti argued that salaries for some of the top staffers are worth paying for the experience the employees bring to the office. Read more…
Related:
MOPNS: (2/3/09) Nixon's Salary Scandal – Work Harder So We Can Live Better!
MOPNS: (2/4/09) Nixon's Salary Scandal Part II – Work Harder So We Can Live MUCH Better
"Heartless Jay" Fires State Employee On Same Day They Donate Kidney
UPDATE: Picture of the Day: "The Governor's Box, Suite 27″
MOPNS Helps Restore University Extension Funding Cuts
Comments
comments