MOPNS: (5/6/08) Vinay "Wide Stance" Vaz is Back!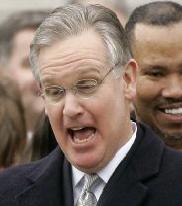 Our new governor had his first press conference yesterday and he seemed to have forgotten two things: One, the campaign is over, and even though the media laid down and rolled over for you during the campaign, they ARE bottom feeders that relish a good controversial story. And two, the old adage that "what goes around, comes around."
Insiders tell us that Governor Nixon and his handlers were afraid that Republican operatives would be at his the press conference attempting to capture our new governor in an embarrassing "YouTube" moment.
"Jack Cardetti, Nixon's communications director, later told reporters that the governor will ban cell phones from meetings in his office for other visitors, but that the initial request had nothing to do with security issues." Read more…
You know, like the one Nixon's stalker Vinay "Wide Stance" Vance tried to capture of former Governor Blunt in the restroom last year. Don't worry Governor, we'll get you, we've got four years to go!
Comments
comments