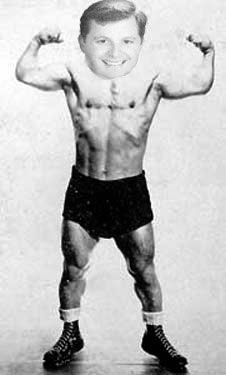 "I had nothing to do with the firing of Todd Graves. They've conducted an investigation. Apparently one of my staff who is no longer is with me communicated a contrary view to somebody." – Sen. Bond
"I don't remember any conversation like that from four years ago."– "Political Pygmy" Jason Van Eaton
Speaking of the "Missouri Matters" website, Joplin blogger Randy Turner left this teaser on the site today:
"Since it has been quite a while since it was the scandal du jour, the media seems to have forgotten about the heavy handed firing of U. S. attorneys, including Todd Graves of Missouri, by the Bush Administration. With President Bush's days in office dwindling, the investigation into those firings continues though it not only has left the front pages but seems to have totally flown off the radar.

I have information on the latest court filing, which details what the Bush Administration plans to do with the documents that have been subpoenaed by the House Judiciary Committee. As you might guess, handing them over was not the option that was selected."
Not only is the media forgetting to talk about the U.S. Attorney firing scandal, they are also committing journalism malpractice by not asking what role former Bond Aide Jason Van Eaton had in Graves' dismissal. Maybe Tony Messenger can, in between donuts, investigate this this year????
Comments
comments