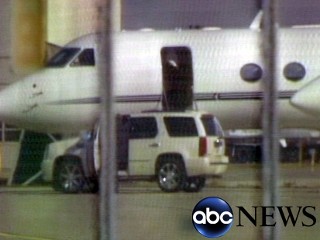 Private jet with one of the three automobile executives landing in Washington.
"If Washington bails them out, you can kiss the American automotive industry goodbye." – Mitt Romney

In what could only be further bad advice from the "political pygmy," Senator Kit Bond has jumped head first – and has actually taken the lead – in spearheading a taxpayer bailout of the struggling automobile companies. As can be expected, most GOP Senators are against a bailout, especially after Congress approved a $700 billion bailout for the financial industry just a few weeks back.
From Politico.com:
"GOP senators met behind closed doors again on Wednesday and did a quick review of their races, with the leadership and defeated incumbents blaming Republican losses on the economic downturn and the president's call for a $700 billion economic rescue plan.

But even this session brought a clash between GOP lawmakers, as Sens. David Vitter of Louisiana and Kit Bond of Missouri fought over whether Republicans should support a bailout of the auto industry, with Bond supporting it and Vitter opposed." Read more…
In our opinion, Kit's enthusiasm for this bailout is a direct result of recent polling showing him barely beating both elected Carnahans', State Auditor Susan Montee, and former House Minority Leader Dick Gephardt. (Great strategy, attempt to gain Democrat blue collar votes, while losing your base!) You would think that if this was truly a great idea, both Bond and McCaskill would be on the same page and work together to "save jobs" in Missouri. Claire must be having a grand time watching her opposite party colleague hang himself supporting something so wildly unpopular.
Mr. Bond is taking a significant risk for his re-election in 2010 by co-sponsoring this "bi-partisan agreement." In 2006, former Senator Jim Talent touted a bi-partisan measure to add a prescription drug benefit to Medicare – and look where that got him – he's now giving speeches and making a ton of money in the private sector. Many believe his support of expanding Medicare was part of the reason he underperformed in St. Charles County and southwest Missouri. Conservative voters were (are) tired of Republican politicians spending like drunken sailors. Will Senator Bond receive the same message in 2010?
 Related:
 RedState.com:

"I think also that we may have a replacement in Sarah Steelman for Kit Bond in 2010, but she'll probably have a fight with the old guard, as she faced them in the GOP and narrowly lost the GOP candidate bid for governor this year; note that Kit Bond and Gov. Blunt opposed her. She is like Palin in the fact she is a reformer of the state, and she has caught flak for her reform activities related to "Show Me Ethanol", (a MO-based company that acquieced to the demands for ethanol in the gasoline with ties to relatives of Matt Blunt), and a sexual harassment settlement check involving Matt Blunt's administration." Read more…
 Richmond Daily News: Show Me Ethanol may default on loan
 KMBC: Many In KC Oppose Automaker Bailout 
Comments
comments