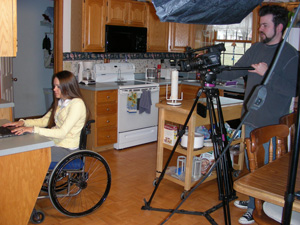 From Reflections of a Paralytic:
I just got word from the filmmakers that the documentary "The Stem Cell Divide," which I was a part of, will premier at the St. Louis International Film Festival on Sunday Nov. 16th, 2 p.m., at the Tivoli 1 Theatre. The movie documents the great stem cell debate that has been raging in Missouri over the last few years.
Triumph Documentaries has been making this film since 2005 when we were trying to ban human cloning in the MO State Senate. A year after that attempted ban pro-cloning forces launched a deceptive $30 million dollar campaign to enshrine the right to clone human beings for scientific research in our State Constitution.
The documentary, I believe, will primarily focus just generally on the issue of stem cell research and cloning. It is supposed to be an unbiased look at both sides of the debate so I will be interested to see how balanced it actually turned out. The filmmakers main interest is in keeping the conversation about this vitally important topic alive. Read more…
Comments
comments