"A man can change his beliefs in order to preserve his party, or, a man can change his party, in order to preserve his beliefs." Sen. Chris Koster (D)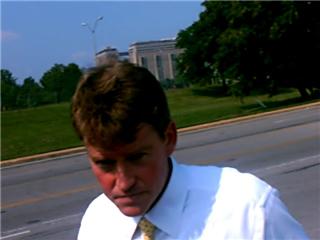 In his best Winston Churchill impersonation, Sen. Chris Koster uttered these words as he betrayed friends, colleagues, and supporters by switching to the Democratic Party last month. Incredibly, Koster even compares himself to highly respected and former U. S. Senator John Danforth.
Most men enter a mid life crises when they reach their fifties, particularly as the kids leave the nest, the middle section adds a little girth, and the hairline thins and turns gray. Koster seems to have prematurely entered his mid life crises in his early forties.
At his announcement, he said that "at the age of 42, I've come to a fork in the road." He also said another turning point in his life was when he entered the state senate as a 40 year old freshman. Gee, other men experiencing a mid life crisis either buy a Corvette or acquire a mistress. Koster instead, loses his integrity and switches parties!
As The L.A. Times and Ky3's David Cantanese fawn over "moderate" Koster with favorable videos and write ups, The Missouri Political News Service brings you Sen. Koster attempting to explain last month why his party switch wasn't for opportunistic self gain. Koster's explanation sounds just as phony then, as it does now a month later.
Note: Since Koster was denied permission to hold his announcement at St. Louis University High School and the St. Louis Science Center next door, the press conference was finally held on a public sidewalk next to a busy street and highway. To hear audio, we recommend turning up your computer's main volume control.
[kml_flashembed movie="http://www.youtube.com/v/gHdQFgbSZNI" width="425" height="350" wmode="transparent" /]
Comments
comments