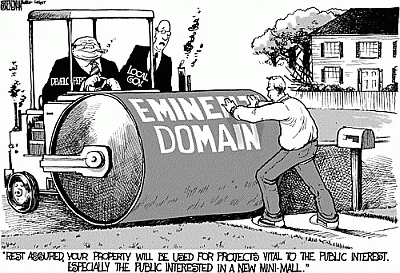 There's a new czar in Jefferson City, and his job is to help protect people's property rights.
Gov. Matt Blunt on Thursday announced he had appointed an eminent domain ombudsman, a position in the Office of Public Counsel that lawmakers created to help citizens in disputes with governments over land-takings.
Blunt picked Paul Anthony Martin, who most recently served as a prosecutor in the U.S. Office of Special Counsel in Washington.
A news release vaulted Martin above the station of ombudsman. Martin will be an eminent domain czar.
"Mr. Martin will travel throughout the state, serving essentially as a property rights czar, advocating on behalf of Missouri property rights, and safeguarding the landowner bill of rights," a statement from Blunt's office said.
Martin also worked as a law clerk in the office of former U.S. Sen. Jim Talent. Martin holds a bachelor's degree from Mercyhurst College in Pennsylvania and a law degree from Washington University.
Martin will be paid $60,000 annually. His phone number is 573-751-4857.
Comments
comments