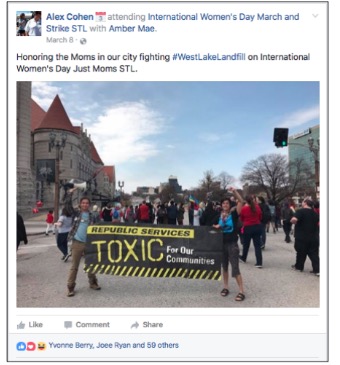 What do all three of these have in common you ask? The Westlake Landfill in St. Louis County that has low levels of World War II nuclear waste that was illegally dumped there decades ago before the current owner owned the property.State senator Maria Chappelle Nadal who is leading the nearly $13 million buyout offer has threatened to bring the senate to a "grinding halt" if the House doesnt take up her bill in the two days left in the legislative session.
"We need state action and we need it now. There is no time for games, I have nothing to lose. For today and this week, we need to focus on the families that are in Bridgeton." Read more…
Although Sen. Chappele Nadal is a self described progressive and represents a far left wing progressive district, there is some bi-partisan support in the House for her buyout bill:
State Rep. Justin Hill (R-Lake St. Louis) says he wants people to make some noise so the federal government will pay attentionWe have families in my district who have grown up in the Coldwater Creek watershed, including my wife's own family," says Hill. "This has personally affected my family. Um, 100% of my wife's family has either cancer or auto-immune diseases."
As we reported earlier in the week, although Chappelle Nadal's bill has some bi-partisan support, the actions of her allies like professional protesters Earth Defense Coalition has soured many legislators on supporting her bill.
One St. Louis area legislator told us, "Look I'm sensitive to the concerns of these homeowners, I once lived near a contaminated sight myself but these outside groups disrupting a private business for publicity doesn't sit well with me quite frankly. They need to go home and let the adults in the room solve this pressing problem."
Who or what exactly is the Earth Defense Coalition? How are they funded since the founders don't seem to be gainfully employed but still travel the country for weeks and months at a time protesting at various sites? The activists who targeting Westlake Landfill are part of a broader coalition of regional professional protesters who target a wide variety of facilities. The professional protesters are mostly young (under 30) radical communists, socialists, anarchists, and leftists who target facilities that run afoul of leftist ideology.
They have targeted facilities and offices in eight states on issues as varied as the Democratic Party nominee, oil and natural gas policy, foreign policy, and nuclear waste treatment. The Earth Defense Coalition shares goals, some members, and resources with several radical leftist and environmental organizations across the country. These groups are Soul Much Water, Soulfire Caravan, Mississippi Stand, Progressive Youth Organization- STL, Just Moms STL, and Arkansas Rising among others.
TOMORROW: Who runs the Earth Defense Coalition?
Comments
comments