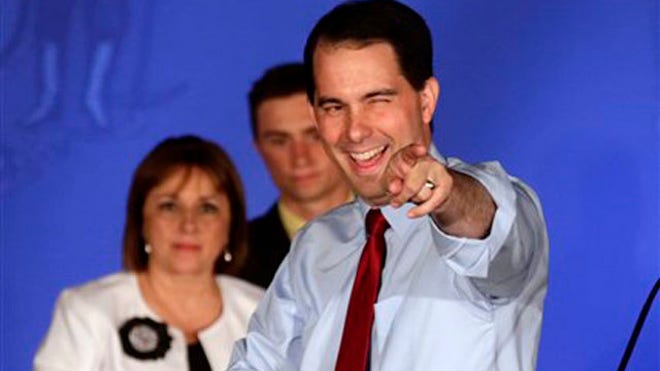 The head scratching and crying in their beers continues  – even from a so called "objective journalist."
NPR:
SIEGEL: But the money, the preponderance of Republican or pro-Republican money in that race – which some people put at 3-to-1, some people put it at about 6-to-1 – much greater than the Republicans might conceivably enjoy in November, isn't it?
ROE: It is. It's interesting, though, when Republicans win they chalk it up to money. When Obama beat McCain, he had 800 million, McCain had 200 million. And it was because of hope and change. So it's a message, its what it's about. And there was a funding advantage for the Republicans. We felt like this was bending the arc of union influence in the state legislatures.
SIEGEL: What you make of what happened in Ohio, where there was not a recall vote, no recall up for Governor Kasich, the Republican, but there was a referendum on public employee collective bargaining rights and the unions won, Kasich lost in that referendum.
ROE: I think it was a bit of an overreach. They had the fire and police involved there. And when you deal with public sector unions, there's still great support for fire and police unions across the political spectrum. So I think it was a bit of an overreach there. I think Walker's plan is pretty mainstream. You can't have out of control benefits that the taxpayers can't shoulder.
SIEGEL: Well, he may be mainstream but even so, 46 percent of the voters in Wisconsin voted to recall him, which is not a normal thing. I mean, it's not a sign of it being widely supported.
ROE: And he became the first governor in our nation's history to ever survive a recall. So, sure, controversial – Wisconsin is the birthplace of organized labor and they had twice as many signatures as they needed. And they essentially ran the same race that they ran before against him, with the exact same result. read more…
Related:
Hat tip:JoeTheWatchdog
Gloating Call Into Dana Loesch Show (With Bonus Content)
[kml_flashembed movie="http://www.youtube.com/v/J43jO79WiSk" width="425" height="350" wmode="transparent" /]
Comments
comments