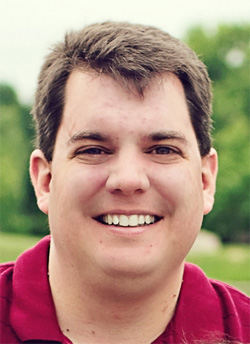 Missourians for Dokes
announced today that St. Charles County resident and Republican activist Matt Ehlen will run the day to day operations for the campaign. Matt was born and raised in the St. Louis area. He graduated from high school in 1998 and received a dual BA in History and Economics from Hillsdale College in 2002, graduating Cum Laude. He received his MBA from Maryville University in 2005. Matt has worked for The Boeing Co since 2000.
Matt and his college sweetheart Elizabeth, along with their three children, have lived in St. Charles County since 2004. Matt currently serves on the St. Charles County Planning and Zoning Commission, treasurer of the St. Charles Young Republicans and president of the Lewis & Clark Pachyderm Club.
The campaign also announced three  more additional endorsements from Sen. Tom Dempsey, Speaker Pro Tem Shane Schoeller, and former state representative Jon Bennett. Mssrs. Dempsey, Schoeller, and Bennett join an impressive list of previously announced endorsements:  Cong. Blaine Leutkemeyer, Lt. Governor Peter Kinder, Sen. Scott Rupp, House Majority Leader Tim Jones, Rep. Sue Allen, Rep. Kurt Bahr, Rep. Kathy Conway, Rep. Mark Parkinson, Rep. Crissy Sommer, Former State Rep. Honorable Allen Icet, Former State Rep. Honorable Joe Smith, Hon. Nancy Methany, St. Charles County Council , Dave Evans, President – Lewis & Clark Pachyderms.
"I am excited to have Matt join our campaign and to have these additional endorsements from these respected officials. This proves that our campaign is on the move to give residents of the 70th district the best representation they deserve."
Related:
Dokes Names Penny Henke As County Coordinator
African American Republican Files For Redrawn St. Louis/St. Charles County District
Comments
comments