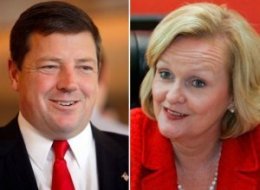 "Now, we are beginning to see that the Air Claire scheme was not an innocent mistake but an elaborate effort to hide assets, dodge taxes, and otherwise keep citizens in the dark."— Ed Martin
Great press release today from the Martin campaign on the "Air Claire" scandal. They even have documentation to back up their claims which are linked below for your convenience.
Here's an excerpt:
Repeated public statements aside, Missouri Senator Claire McCaskill's Sunset Cove LLC does not actually own the aircraft at the center of the senator's self-dealing charter plane scandal. In fact, the plane McCaskill used – and billed taxpayers nearly $90,000 for — over the past five years is actually registered to a Delaware corporation.

Air Claire is owned by Timesaver Inc., which is owned by Sunset Cove LLC, which is owned, in part, by McCaskill. When faced with these facts last week, Senator McCaskill admitted that she charged taxpayers nearly $90,000 to fly around in her own airplane. In repaying the money, McCaskill referred to the whole affair as an innocent mistake.

Senator McCaskill's "innocent mistake" appears to be an elaborate scheme set up in violation of Missouri laws for corporations in order to both obscure her ownership in the aircraft and avoid Missouri taxes on the plane. Sunset Cove LLC was not incorporated to operate as a charter company or airline, but for the sole purpose of acquiring the assets of another entity.

"If Sunset Cove is improperly incorporated, then Senator McCaskill must remedy this illegal scheme, or the Attorney General should take action," said Ed Martin, Republican candidate for U.S. Senate. "Until last week, Missourians heard a lot of talk from Senator McCaskill about transparency and accountability, but we did not see the real Claire McCaskill until she was caught paying herself with tax dollars.
Related:
*Missouri Republican Party Executive Director Lloyd Smith will be hosting a conference call this morning at 10:30 AM to discuss Claire McCaskill''s use of taxpayer resources for political activities.
U M Maneater: Private flight controversy could hurt McCaskill's lead in polls
The Missouri Record: A St. Louis Senate Primary?
Sunset Cove LLC Organization Documents
Timesavers LLC Organization Documents
Multi-Millionaire McCaskill Campaigns For U.S. Senate in $3 Million Private Plane
Senate Fight Takes Flight With Airplane Argument
Comments
comments