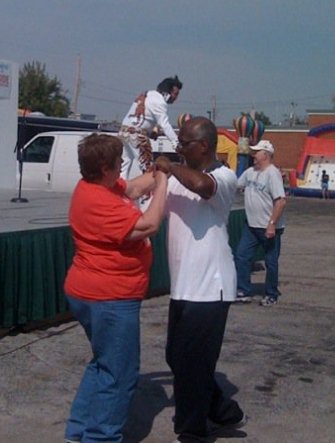 While Elvis prepares to leave the building, Mr. Dooley does a Kubuki/two out of three falls wrestling dance(???) with a supporter last weekend.
As the November 2nd election date approaches, the two candidates for St. Louis County Executive were busy on the campaign trail last weekend. They both were at the St. Louis American newspaper's "Salute to Excellence in Education" awards banquet Friday night.
Sources tell us that Bill Corrigan attended the invitee only VIP reception before the dinner but Charlie Dooley was nowhere to be found. (Was he invited?) Our sources also tell us that the reason Mr. Dooley was late to the dinner was because he had no intention of attending until he was told that Mr. Corrigan was there.
Bill Corrigan speaks with a guest at the St. Louis American Foundation's "Salute to Excellence in Education" Awards banquet.
Corrigan jokes with a Dooley supporter pulling up the rear at the GreenTree Festival parade in Kirkwood, MO.

Comments
comments