picture credit: kmox.com
You almost have to feel sorry for this Tom Curran guy. He has the unenviable and monumental job of cleaning up the mess left by his predecessor John Temporiti. Temporiti was the board president of a non registered non profit that now appears that it was nothing more than a slush fund for Temporiti and his cronies:
KMOX.com:
A KMOX investigation shows St. Louis County Executive Charlie Dooley wanted to give millions of taxpayer dollars to an organization controlled by his campaign manager, as part of the most ambitious computer project the region has ever seen.
That's confirmed by Dooley's Director of Intergovernmental Affairs, Tom Curran: "Clearly the idea was to promote this broadband project, and to provide connectivity to the schools and all the other things the [St. Louis Regional Exchange] had talked about," Curran told KMOX Friday.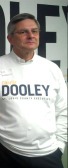 The Regional Exchange, or REP, bills itself as the bi-state's premier non-profit internet development agency, run for the last four years by Dooley's campaign manager, John Temporiti. The Regional Exchange seems to have a minimal staff, and since 2008 has been operating out of the offices of Temporiti's lawfirm, Gallop, Johnson & Neuman.
Nevertheless, the Regional Exchange was to be given $25 million in stimulus funding, in a plan outlined on page 139 of Dooley's 2009 "Ready to Go" stimulus wish list. The grant request still hasn't been approved yet by the Department of Commerce, but the proposal itself is stunning in its scope and impact: connect all local governments, hospitals and school systems through a fiber and wireless broadband internet network designed and maintained by the Regional Exchange….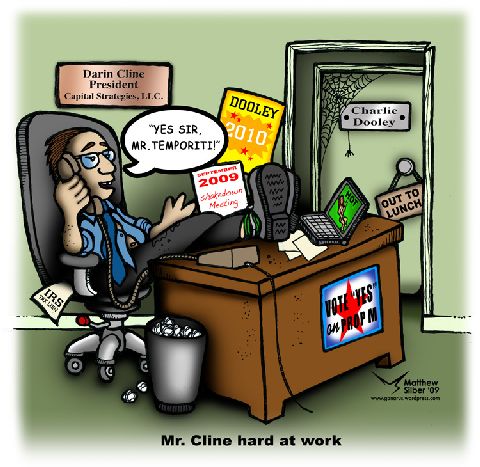 "He [Darin Cline] did a fine job." – Charlie Dooley
KMOX asked Curran if he knew who came up with the idea to put Temporiti in charge of the connectivity project: "I do not. I was not employed by St. Louis County at that time." But in an interview last year with the Post Dispatch, Dooley said that his former Director for Intergovernmental Affairs, Darrin Cline, had been the point man in seeking federal stimulus money for projects relating to internet broadband access and green energy initiatives.
MOPNS Forces Resignation of STL County's Lobbyist; Denies Dooley Forced Him Out
Campaign Scam in STL County; Government Affairs Director Profited from Democratic Campaigns While on YOUR County Payroll!
One Question Post Dispatch "Forgot" to Ask Dooley: "Were You Aware That Your Lobbyist Was Operating His Consulting Firm From Your Office?"
Comments
comments