Blogger Michael T. McPhearson of the McPhearson Report tells us about his recent encounter with Congressman Lacy Clay.
I had a strange and disappointing encounter with my Congressional Representative William Lacy Clay Jr., Democrat of Saint Louis Missouri's 1st District.  I was in the Ronald Reagan National Airport in DC, still known by many only as Washington National, returning to Saint Louis from a meeting about U.S. foreign policy.  I was sitting waiting for my plane when he walked by.  I was surprised when I saw him, taking a moment to gather my luggage to pursue him. When I stepped out on the walkway he was a good distance ahead of me so I called out, "Representative Clay." I used the volume level we all attempt when we want to get someone's attention, but we do not want to embarrass ourselves screaming.  I hoped to those around me my voice would sound like background noise, but that Clay would hear his name.  He kept walking. I think I may have called out again. He slowed down, tilting his head a little. Then he stopped and turned. I did not expect him to recognize me. I think we met briefly once sometime ago. I was in a trot towards him, so it quickly became apparent I was calling out to him. He said, "What?" in what seemed to me an irritated voiced.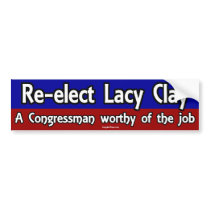 "I would like to talk to you for a moment."
"About what? I'm trying to get out of here, man."
"Well if you are in a hurry that's OK. I'm from Saint Louis," I answered with some trepidation.
"You can call my office. I don't have a card," he said with visible impatience.
I replied, "If you are in a hurry, I understand." He turned. "Thanks," I said to his back as he departed. Read more…
Bought & Sold Lacy Clay: "I'll Always Do My Best to Protect What Really Matters to You"
Rep. Clay Aide (His Sister) Reacts Angrily to Public Interest Group Request: "Who Did You Think You Are Calling Here?"
Comments
comments