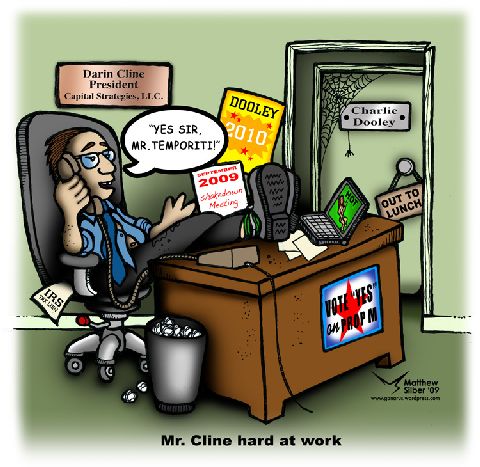 We see nothing wrong with an African American newspaper defending an African American politician, it's almost expected. But the 400lb gorilla in the room here (no racial slight intended libs!) is the fact that Mr. Cline was operating a political consulting firm from the apparently friendly confines of the county executive's office. And to add insult to injury, last year Cline was consulting for a group that was attempting to pass a half cent sales tax in – you guessed it – St. Louis County! My God, the conflicts of interest here are glaring!
St. Louis American political editor Chris King takes the rather myopic view that the Post's articles were just a hit job designed to embarrass Charlie Dooley.
Last Wednesday the St. Louis Post-Dispatch led its news coverage – front page, above the fold, eyes right – with a thick, bold headline: "Dooley answers loss of lobbyist."

The news nugget was that the lobbyist for County Executive Charlie A. Dooley, Darin Cline, had resigned that Monday.

This single shred of actual news emerges in the fourth paragraph. It is preceded by three overheated paragraphs in which, based on nothing but "unconfirmed rumors," Dooley is portrayed as defending himself against "whispers" that Cline's resignation is tied to an alleged "federal investigation into county government.

Near the end of the copy on page A1, in paragraph eight, we are told that Cline "had a federal tax problem" – a personal federal tax problem. But that is only after the "unconfirmed rumors" about Dooley and "whispers swirling through county government headquarters" have been used in an attempt to connect the county executive to two state legislators who have pled guilty to federal charges.
It doesn't take a Sherlock Holmes or a Columbo to deduce that Cline's abrupt resignation, (no doubt due to our post) coupled with Dooley's canceled closed door shakedown planning session at his campaign treasurer's law office, may have raised a few eyebrows of the normally asleep St. Louis media. Dooley aide Mike Jones, who is usually credited with being politically savvy, fails miserably in his attempt to stop the bleeding (mainly because he reopens the wound!) by using horrible sports metaphors. And of course he blames the blogosphere:
"Now, instead of riding up and down elevators, we've got blogs. The reason people know things are true is they have seen them on six blogs. It's the 21st century equivalent of riding up and down on elevators."
"Sometimes politics is not elegant, sometimes it's WWF. But even in WWF, the ref stays out of the match. You expect to get hit with a chair by the guy in the other guy's corner. I do not expect to get banged on the head by the ref. But when the officials get in the game, you've got to call them out and be willing to pay the fine when the League office calls."
 "Part of the reason you challenge bad officiating is not to change the officiating – it's so your players know you are fighting for them.'
Mr. Jones, we'd like to offer you some free unsolicited advice, advice you should already know: "Never pick a fight with someone who buys ink by the barrel."
Related:
Messenger: How Twitter has changed politics in Missouri, circa 2009
One Question Post Dispatch "Forgot" to Ask Dooley: "Were You Aware That Your Lobbyist Was Operating His Consulting Firm From Your Office?"
Comments
comments