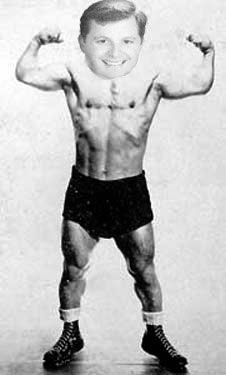 Former Bond staffer Jason "political pygmy" Van Eaton
"Sen. Bond did not know or approve his former staffer's actions, so obviously he didn't make a deal to have someone dismissed that he didn't want fired in the first place."-Bond spokesperson

"One of the e-mails, dated Dec. 21, 2005, states that the White House has "heard and will work to satisfy Sen. Bond's request regarding a replacement for the U.S. Attorney in the W.D. (Western District) of Missouri."
The real reason Kit Bond is retiring from the Senate is slowly starting to emerge. The first signs of trouble emerged when state director Jason Van Eaton all of sudden left his position with Senator in November of 2007 to work on the Senator's re-election campaign in 2010 – two plus years out!
Thankfully, (and we can't believe we're saying this) the national media is not asleep at the wheel like the Missouri press has been. We do give kudos to K.C. Star reporters Dave Helling and Steve Kraske for at least doing a story yesterday on this continuing scandal:
Documents show Sen. Kit Bond, R-Mo., was closely involved in the 2006 ouster of U.S. Attorney Todd Graves, the chairman of the House Judiciary Committee said Tuesday.Among the documents are e-mails that show for the first time that the Bush White House was fully aware of pressure from Bond's office to remove Graves and did not oppose replacing him.

The documents could become part of an ongoing criminal investigation into the firings of Graves and eight other U.S. attorneys by the Bush administration.
We are amazed at how now lobbyist and former Bond staffer Jason Van Eaton, continues to escape mention in these stories. You would think that a key figure – directly involved in the firing of a U.S. Attorney – would warrant a few sentences!
Instead, Rove said Bond – a former client and friend – was angry at Rep. Sam Graves because of his political consultant, Jeff Roe.

"(Bond) did not bring up Todd Graves in his conversations with me," Rove testified, "but he was very clear that he was upset with Congressman Graves' political guy running an open, aboveboard, in the clear Web site devoted to trashing Sen. Bond."

It isn't clear what Web site Rove was referring to, since Roe's site did not go online until after Todd Graves left office.

But strained relations between Bond's office and the Graves brothers have been confirmed by other investigators probing Todd Graves' dismissal. For example, in 2008 the Justice Department's inspector general and Office of Professional Responsibility concluded the Bond-Graves feud directly led to his removal.

The joint report also found that a former Bond aide, Jack Bartling, wanted to make sure Bond's alleged role in the Graves matter was kept quiet.

"His (Bartling's) principal purpose … was for me to make sure that Sen. Bond's contact with the White House was kept confidential," Justice Department official Michael Elston told investigators at the time. Read more…
Comments
comments