The governor's budget cuts have been the big story lately, with some praising him for making "tough decisions" to balance the budget. However, few acknowledge one of the most telling budget increases – the amount allotted for the governor's office. While he was busy cutting funds for other offices, pulling funding for a cancer hospital, firing hundreds of state employees, making political decisions to remove conservative judges, and generally whining about the selfishness of legislators, Nixon refused to share the burden by cutting his own spending.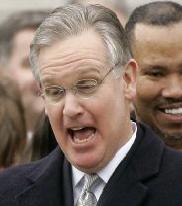 Though the state of Missouri is facing what could potentially be a historic budget shortfall, he continues to spend away by racking up the frequent flyer miles in Air Nixon the state plane, flying anywhere he pleases to get a quick photo op and lie to tell the people about what he's doing to "save taxpayer money" that the others aren't, all while charging the trips to other governmental agencies to avoid spending any of his office's money. Meanwhile, he's cutting important economic development money from the budget, gassing up the plane, and using federal stimulus funds as a crutch to prop up his expensive agenda. He must be praying that Missourians don't look at the budget to see his hypocrisy. But again, it is Jay Nixon.
Here are a few facts:
· It costs $1,400 per hour for a normal person to charter a King Air 90 luxury aircraft like the one Jay Nixon flies on. One of his taxpayer trips included a flight to a Mizzou basketball game with a reported cost of $1295. Approximately $60,000 has been charged to various state agencies so far, with Nixon using the plane at least 50 times during his short time in office. Of course, the taxpayer cost of the plane is skewed, as they only bill fuel – they don't publish specific amounts to account for the depreciation of the airplane, the pilots' time, or other expenses, which will all come out of the taxpayers' pockets.
· His Fiscal Year 2010 office budget has increased 2.7% over FY 2009 and some of his personal friends who work in the governor's office received 45% pay raises, all while he pushes more of his office's costs onto other agencies.
· The FY 2010 budget includes 12 new staff jobs for elected officials, while Nixon cut over 230 transportation jobs.
· Nixon hid additions to his own staff by having other state agencies foot the bill.
· Gov. Nixon uses his courtesy golf membership at the elite Jefferson City Country Club while most people work an extra job to make ends meet.
Comments
comments