Will Kit Bond's Senate career be "sleeping with the fishes" after 2010?
The respected Capital Hill newspaper Roll Call has an interesting article today on our senior Senator Christopher "Kit" Bond. In what will probably be the first in a series of articles on Republican incumbent senators facing uphill battles for re-election in 2010, the article titled "Ties That Bond: Will He Stay or Go?" tries to give us a little insight on Mr. Bond's thinking. "I'm laying the groundwork, but right now I'm focused on my official role as Missouri's senior Senator."
Long time political observers we talked to speculate that Bond running for re-election is almost a certainty:
"Look, all Kit's known for forty plus years is politics and holding elected office. They'll have to drag him out of the Senate chamber stiff and at room temperature before he leaves! His playboy days are FAR behind him, so what is going to do, end out his days being a gentleman farmer in Mexico, Missouri? I don't think so."
In the article, Bond said he's readying his legendary "Bond Brigade" for 2010 and that he is "lucky to have the best county coordinators and Republican volunteers in the nation." He also took credit for "deliver[ing] the only win for John McCain in a battleground state."
We see three big question marks for Mr. Bond in 2010. One, will the Bond Brigade and party activists forgive him for involving himself in the governor's primary? Two, what impact will the current scandal involving political pygmy Jason Van Eaton and the firing of former U.S. Attorney Todd Graves have? The notion that Bond had no idea what was going on in his own office is not credible. And three, the country is not in the mood for politicians who pride themselves on the pork they bring back to their state. It's an especially hard argument when our junior Senator Claire McCaskill doesn't ask or receive earmarks.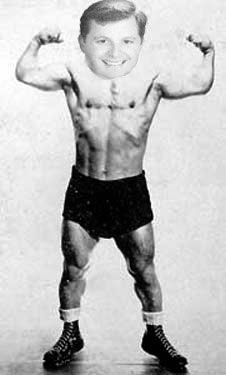 We chronicled the taxpayer paid junkets (New Orleans & Asia) taken by former Bond state director Jason Van Eaton and the revolving door he maneuvered to lobby the Senator.
We've learned Mr. Van Eaton wasn't the only Bond staffer abusing the taxpayers and taking lobbyist sponsored trips.
Former Chief of staff and now state director Brian Klippenstein has been a travelin' as well. Mr. Klippenstein has racked up over $8,000 in trips to Hawaii ($2,694.95) and Arizona ($2,414.31).
Can Kit win in 2010? Sure, he's an incumbent and he's a tireless campaigner. If we had to put our early money on this race, we'd have to call it a toss up between him and Robin Carnahan.
Related:
Human Events: "The 54-year-old Kinder is considered a likely Republican contender for governor in four years or for the U.S. Senate if four-term Republican Kit Bond retires in 2010."
Club for Growth Video: Bond Supports Pork for Bicycle Paths
[kml_flashembed movie="http://www.youtube.com/v/KxFlnJiahYE" width="425" height="350" wmode="transparent" /]
Comments
comments