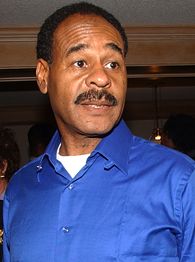 Uncle Tom Emanuel Cleaver is supporting Hillary Clinton, even though his district voted for Obama in the Missouri Primary. From The Hill:
Cleaver has a unique perspective. He's a black preacher himself, and a supporter of Clinton's. He worries that white voters will be angered by Wright's remarks, and that black voters will be put off by Obama's rejection of his onetime spiritual leader.

Cleaver acknowledged that the uproar about Wright benefits the candidate he's endorsed, but he takes no comfort in seeing the black church depicted as a hotbed of anti-American radicals.

He said he's never heard black preachers refer to the Sept. 11, 2001 terror attacks as "chickens coming home to roost" or say "God damn America." But he does consider Wright one of the lions of the black church.

He also said that the whole affair has shown that, "In 2008, the majority community knows very little about the black community."

Cleaver said he had advised Clinton on how to deal with the Rev. Wright issue well before Wright's latest round of appearances. He said he told her, "The least said, the better. There is no benefit in any comment."
Rep. Juanita Head Walton was disqualified from her Senate bid because she doesn't pay her taxes. From Arch City Chronicle:
Yesterday Rep. Juanita Head Walton was disqualified from her state senate bid. The secretary of state's office says that the disqualification came from the affidavit filed with the Department of Revenue. That prevents a candidate from filing who is delinquent in the filing or payment of any state income taxes, personal property taxes, real property taxes on the place of residence, and is not a past or present corporate officer of any fee office that owes any taxes to the state.
Remember the good 'ol days when politicians attempted to win elections because they had better ideas than their opponents?
PubDef.net has learned that State Rep candidate Tishaura Jones will be challenging the residency of her opponent, April Harris.
From KWMU: Rep. Wright-Jones (r)
Missouri Representative Connie Johnson responded Monday to a lawsuit that claims she does not live in the senate district in which she's running.

The suit was filed last week by Representative Robin Wright-Jones, one of Johnson's Democratic opponents for the 5th District Senate seat in St. Louis city.
Comments
comments