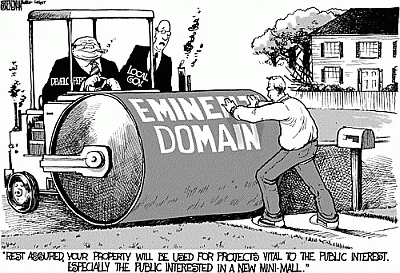 The St. Louis Federalist Society will present an all-star panel of property rights experts debating the law of eminent domain. Eminent domain remains a hot issue in Missouri, as evidenced by the publicity surrounding City of Arnold v. Tourkakis.
On Thursday, March 6, 2008, come to the Missouri Athletic Club in downtown St. Louis and hear a panel discussion featuring:
Gerry Carmody (developers)
Tim Sandefur (homeowners)
Alan Bornstein (developers)
Dave Roland (homeowners)
Anthony Martin (moderator)
Lunch will be served at 12:10 and the debate will begin at 12:30, to give the speakers time to eat. RSVP if you would like lunch. Lunch will cost $20.00, but attendance is free.
Gerry Carmody has been litigating cases for 30 years, trying more than 100 cases to conclusion in state and federal courts. He is a Fellow of the American College of Trial Lawyers. Jerry concentrates his practice in commercial, real estate and employment litigation. According to Missouri Lawyers Weekly, "[Gerry Carmody] is considered by many in his profession to be among the top experts in eminent domain within Missouri." Gerry was chosen by Missouri Governor Matt Blunt in 2005 to serve on a task force to review eminent domain law and procedures.

Timothy Sandefur is a Staff Attorney at the Pacific Legal Foundation, where he is currently working to prevent the abuse of eminent domain, and to protect the right to earn a living under the Fourteenth Amendment. Mr. Sandefur holds a J.D. from Chapman University School of Law and a B.A. in political economy from Hillsdale College. He is the author of Cornerstone of Liberty: Property Rights in 21st Century America, and he has published more than 25 scholarly articles, which have appeared in such publications as the Harvard Journal of Law and Public Policy and the Michigan State Law Review.

Alan Bornstein has a B.S. from The Wharton School at the University of Pennsylvania, a J.D. from Washington University, and earned his LL.M. in Taxation from New York University School of Law. Mr. Bornstein has extensive experience in negotiating and documenting real estate transactions on behalf of both lenders and developers. Mr. Bornstein's work on behalf of developers has included participating in and managing the legal work for numerous community shopping center developments, including land assembly, governmental approval, architect's agreements, construction agreements, construction financing, acquisition of properties for rehabilitation, and dispositions of completed community centers. His work in this area has involved properties in more than twenty states. Mr. Bornstein served for ten years as an adjunct professor in the Washington University School of Law Graduate Tax Program, where he taught a course on selected topics in real estate taxation.

Dave Roland came to the Show-Me Institute after three years in the nation's capital as an attorney with the Institute for Justice, where he litigated school choice, economic liberty, and property rights cases in state and federal courts. Dave earned undergraduate degrees in political science and Biblical studies at Abilene (TX) Christian University before studying law and religion at Vanderbilt University, where he received his M.T.S. and his law degree in 2004. Mr. Roland has published several articles, including "Will the Missouri Supreme Court Leave Your Home At Risk?", available at the Show-Me Institute Web site.
Governor Matt Blunt appointed moderator Anthony Martin as Missouri's first Ombudsman for Property Rights on August 20, 2007. Prior to serving in Governor Blunt's administration, Anthony was a prosecutor in the U.S. Office of Special Counsel in Washington, D.C. There he prosecuted federal government officials for corruption in violation of Title 5 of the United States Code. He also prosecuted veterans' rights discrimination within the federal government. Before returning to Missouri, Anthony worked as a law clerk in the office of U.S. Senator James M. Talent; a law clerk in the Law Enforcement DefenseDivision of the Office of the Texas Attorney General; and as a Rule 13 attorney in the Office of the Missouri Public Defender. Anthony holds a Bachelor of Arts from Mercyhurst College; a Juris Doctor from Washington University in St. Louis; and a Master of Business Administration from the University of Memphis.
Comments
comments