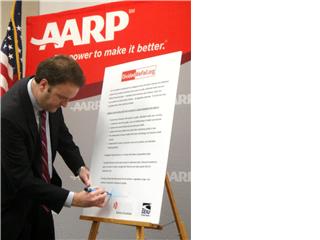 Dr. Sam Page, State Representative and a democratic candidate for Lt. Governor signs the AARP 'Divided We Fail' pledge.
For Immediate Release
November 27, 2007
Contact: David Woodruff
Phone: 314-989-9939
While our televisions fill with advertisements defining us as red, blue, progressive and conservative, our lives remain burdened by the high cost of healthcare for our families.
No matter your political stripe, Dr. Sam Page and the AARP agree:
All Missourians should have access to affordable, quality health care.
Dr. Sam Page, a physician and State Representative, together with the AARP, signed the Divided We Fail pledge.
"I am committed", says Dr. Page, "to working with my colleagues across the aisle to develop and implement policies that provide all Missourians with access to quality, affordable health care. I understand that Missourians want answers, action and accountability from their elected officials – not legislative stalemate. The time has come to address these critical national priorities. I pledge to work across party lines to sponsor or support legislation that seeks to provide every American with access to quality, affordable health care."
Dr. Page is the first candidate for statewide office to sign the bipartisan pledge.
Comments
comments