By Cathy Ruse
The human-cloning fight rages on in Missouri and state officials are once again taking sides and tricking voters. But possibly the worst fraud yet came Wednesday from Secretary of State Robin Carnahan.
Last year a pro-cloning constitutional amendment, disguised as an anti-cloning measure and promising "treatments and cures," passed by a razor-thin margin — despite a record-breaking $30 million dollar campaign war chest, financed almost exclusively by one billionaire with big plans. It took the art of dishonest politics to a whole new level.
To right that wrong, a grassroots group called Cures without Cloning is promoting a measure to give Missourians another chance to ban human cloning. Their measure would allow voters to ban the act of creating cloned human embryos for research — conduct which last year's measure raised to the level of a constitutional right. Read more…
Related: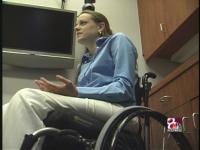 Reflections of a Paralytic blogger Chelsea Zimmerman was recently interviewd in this KOMU Interview. Zimmerman is with the organization Cures without Cloning.
Comments
comments