Media Credit: Laila Wessel
Mike Dorsey (left), the Midwest Political Director for presidential candidate Sen. Barack Obama, and Gov. Holden urged others to get involved in the campaign and answered questions of the audience in the University Center Sunnen Lounge Sept. 4.
From The Journal: (Webster University)
By: Angela Riley
Many left the University Center Sunnen Lounge Sept. 4 feeling disappointed after coming to hear presidential candidate Barack Obama's Midwest Political Director, Mike Dorsey, talk about the Democratic senator from Illinois' campaign platform and strategies for the election.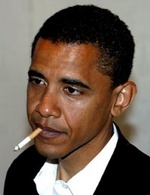 "I thought it was pretty horrible," said Macklin Rice, a senior studio art major. "(Dorsey) had the opportunity to lay out Obama's platform and he didn't. He kept talking about how he wants people to go out and knock door to door (to gain support for Obama), and there are 50 doors right here (in the audience). I learned more about Obama from an audience member who made a comment."
Dorsey explained he supports Obama because Obama wants to make a fundamental change. But Dorsey did not fully clarify what fundamental change Obama wants to make when prompted by audience members.
Mandi Lee, a freshman acting major, asked Dorsey how Obama would appeal to her as a conservative Christian. She said she was disappointed by the response she received. Dorsey said Obama is a Christian man, and he had much in common with conservative Christians.
"I didn't get any straight answers," she said. "As a voter, I'm going to look to people with straight answers." Read more…
Comments
comments