Sen. Koster still agonizing over his decision to jump ships?
The third leg of Sen. Koster's "destroy my reputation and credibility tour" did not go off without a hitch in the Gateway City yesterday. In what could be an omen for the senator's future political success, sources tell the Missouri Political News Service that Koster was respectfully denied permission to hold his press conference on the St. Louis University High School campus, due to his position on stem cell research.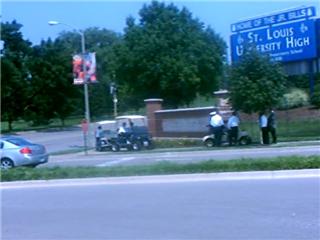 The press conference was originally scheduled for 3:00 but didn't start until 3:30. The campaign eventually held an impromptu conference on the "public" sidewalk in front of the St. Louis Science Museum next door. We're told Koster had to battle the noise of Harley Davidson motorcycles, the occasional airplane overhead, and city buses transporting their passengers to and fro.
After the event, one veteran reporter was overheard remarking how "unorganized it was." A student reporter, on hand from one of the local universities, stated that a "college freshman -interning for the summer in a congressman's office – would know not to schedule a stem cell proponent politician at a catholic high school!" Unfortunately for Koster yesterday, he received a reality check on the Democratic Party's long standing modus operandi of "symbolism over substance" on the day of his big announcement. His new – and obviously inexperienced Democratic staffer's zeal to have the Senator speak at his alma mater- blinded them to the political realities that were going to make that an impossibility. It is ironic symbolism to have a guy who is having obvious difficulty finding his political philosophy, also having difficulty finding a venue to hold his press conference to announce it.
Related:
Pub Def: "Teamsters Endorse Koster for A.G."
Missouri Pulse: Video
Comments
comments