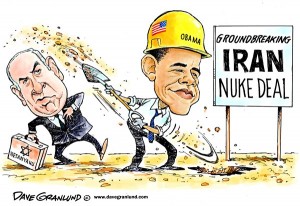 CNN writes, "A majority of Americans want Congress to reject the recently-negotiated nuclear deal with Iran, even as President Barack Obama's approval rating continues to stand in net-positive territory for the second month in a row, according to a new CNN/ORC poll. . . . [O]n the President's biggest accomplishment since [2013] — the nuclear agreement reached between the U.S., its allies and Iran — most say they would like to see Congress reject it. Overall, 52% say Congress should reject the deal, 44% say it should be approved.
"Some opposition to the deal may be fueled by skepticism. A CNN/ORC poll in late June, conducted as the deal was being worked out, found that nearly two-thirds of adults thought it was unlikely the negotiations would result in an agreement that would prevent Iran from developing nuclear weapons."
That's hardly surprising given Iran's long record of hostile and deceptive behavior, let alone the angry statements that come from leaders in Tehran.
A Reuters report indicates that the Saudis and other countries in the Middle East continue to see this behavior up close. "Saudi Foreign Minister Adel al-Jubeir on Monday accused Iran of making threats against Riyadh's ally, Bahrain, which he said showed that the Islamic republic was harboring hostile designs against its Middle Eastern neighbors.
"Speaking at a joint news conference with visiting European Union foreign policy chief Federica Mogherini, Jubeir said Saudi Arabia had raised the issue with her. He said the comments showed that Tehran was intervening in its neighbors' internal affairs. 'It does not represent the desire of a state for good neighborly relations but that of a state which has aspirations in the region and which carried out hostile act like this,' he added.
"Jubeir did not clarify who made the comments or when, but he said they could be linked to the terms of the agreement with world powers on its nuclear program or to setbacks suffered by Iran's Houthi allies in Yemen and President Bashar al-Assad's forces in Syria. 'I don't know, but we reject their comments and reject the hostility they show towards the Kingdom of Saudi Arabia and the countries of the region,' he said.
"Bahrain on Saturday said it had foiled an arms smuggling plot by two Bahrainis with ties to Iran and recalled its ambassador to Tehran for consultations after what it said were repeated hostile Iranian statements."
Meanwhile, the AP reports, "Iran wants its own officials to take soil samples at a site where it is alleged to have experimented with ways to detonate a nuclear weapon, and the U.N. agency probing the suspicions may agree provided it is allowed to monitor the process, two officials told The Associated Press Tuesday.
"The investigation by the International Atomic Energy Agency is part of the overarching nuclear deal reached earlier this month between Iran and six world powers. Iran denies any such work but has agreed to give the IAEA access to the Parchin military complex.
"Several U.S. senators cited Obama administration officials last week as saying Iran could conduct its own soil sampling at Parchin. . . .
"David Albright, whose Institute for Science and International Security is often consulted by the U.S. government on proliferation issues, said the IAEA 'could instruct Iran in where and how to take the sample, as they would an inspector. They could try to keep a close watch on how Iran follows the instructions.'
"At the same time, 'the IAEA could not exclude Iran tampering with the sample in some way,' he said.
"Iran has refused to give IAEA experts access to people, documents and sites allegedly linked to the suspected weapons work for nearly a decade. But in its quest for the end to nuclear-related sanctions, it agreed earlier this month to work with the agency, and IAEA chief Yukiya Amano has said he expects to be able to deliver a report by December. . . .
"U.S. lawmakers skeptical of the deal see the matter of whether the U.N. agency will receive full cooperation from Iran as a core issue. Congress began a 60-day review of the accord last week.
"The suspected explosives testing at Parchin, south of Tehran, is only one of 11 alleged cases of nuclear weapons-related work listed by the IAEA, based on U.S., Israeli and other intelligence and its own research.
"Tehran insists Parchin is a conventional military area with no link to nuclear tests. In recent years, it has carried out major construction and paving at the site where the alleged experiments took place, while refusing dozens of IAEA requests for a visit."
Little wonder, then, that Americans are skeptical of Iran living up to an agreement and aren't persuaded on the deal the Obama administration has made.
Related:
WSJ: Admin Document Provided To Congress Says We'll Likely Never Get Full Accounting Of Iran's Past Nuclear Program
Iranian Leaders Demand Immediate Sanctions Relief In Nuclear Deal, In Sharp Contrast To Obama Administration Statements
Comments
comments