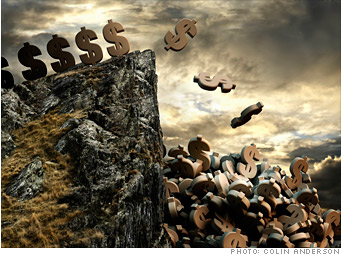 Politico writes today, "Call them the cliff jumpers. A growing bloc of emboldened liberals say they're not afraid to watch defense spending get gouged and taxes go up on every American
if a budget deal doesn't satisfy their priorities. . . .
If tax rates snap back to the higher levels from the 1990s and painful budget cuts start to hit the Pentagon, these Democrats — led by Washington Sen. Patty Murray — believe they would wield more leverage
over the GOP to enact a budget compromise on their terms."
Politico notes, "Murray declared in a speech this summer that she would push budget negotiations into 2013 if Republicans don't cave on taxes for the rich. The fourth-ranking Senate Democrat repeated the threat in a Nov. 11 interview on 'This Week.' 'If the Republicans will not agree with that, we will reach a point at the end of this year where all the tax cuts expire, and we'll start over next year,' Murray said."
Now some House Democrats are echoing Murray. If he doesn't get the tax increases he wants, Rep. Peter DeFazio (D-OR) told Politico, "then we're better off going over the cliff and readdressing this with a better Congress in January." Rep. Peter Welch (D-VT) said, "If it's necessary to wait [past January 1st] to get a good deal, let's do that."
With such talk coming from Democrats in Congress, left-wing groups "are preparing a multi-million campaign" to pressure Congress and President Obama to simply allow the country to go over the fiscal cliff if they don't get the tax increases they're demanding.
"But that tough stance has led Republicans to claim Democrats are all too eager to trigger a recession," Politico points out. "With a poster of a scene from the 1991 film 'Thelma and Louise' behind him, Utah Sen. Orrin Hatch said in a floor speech this summer that — much like the movie's title characters — Democrats were planning to drive the economy straight over the edge to get tax increases. 'Rather than stop the country from going over the fiscal cliff and preventing the expiration of the 2001 and 2003 tax relief, they are prepared to Thelma and Louise the American economy right over the cliff,' said Hatch, the top Republican on the Finance Committee. 'That is an astonishing admission.'"
Related:
Rasmussen Reports: 48% Think New Tax Money Will Go to New Programs, Not Deficit Reduction
Comments
comments