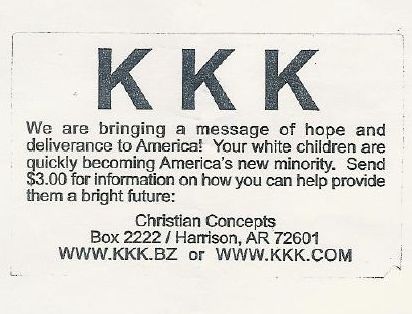 Source: NAACP
Image of a KKK recruitment card allegedly being handed out by a Laborers International Union of America board member.
St. Louis, Mo. – A Laborers International Union of North America Local 53 Board member is using the project sites of the U S Army Corps Engineers – St. Louis district as a recruitment center for the Klu Klux Klan…the union official is currently working at the St. Louis Airport Site (SLAPS) a 21.7-acre property in St. Louis County, immediately north of the Lambert-St. Louis International Airport.
The union official has also worked at the St. Louis Downtown Site (SLDS) encompasses nearly 45 acres and is presently owned and operated by Mallinckrodt Inc. (formerly Mallinckrodt Chemical Works) and is located in an industrial area on the eastern border of St. Louis, approximately 300 feet west of the Mississippi River… SLDS is also under the responsibility of the St. Louis District USACE.
Picture(s) of the Day: The Forgotten Face & Results of Open Borders
Comments
comments